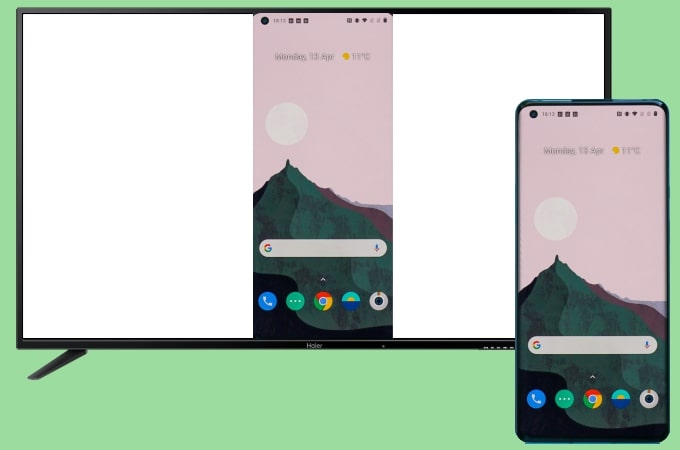 OnePlus 8 has a wonderful screen display and you may want to cast the phone screen to your TV to stream videos, play mobile games, and present other files from your phone to your TV wirelessly. However, this may be difficult for you if you are new to it. To learn how to mirror OnePlus 8 to TV, below listed top screen mirroring tools for Android will be of great help.
Top 3 Ways to Mirror OnePlus 8 to TV
Built-in cast feature
OnePlus 8 has a built-in cast feature, the Screencast, which allows users to display the screen of their phones to their TV in real-time. Using this, you do not need to install any apps. To mirror OnePlus 8 to TV with this built-in feature, simply follow the steps below.
Connect your OnePlus 8 and TV to the same WiFi network.
On your OnePlus 8, go to your Settings > Connected devices > Cast. From there, enable the Cast feature.

Once enabled, it will autodetect devices connected on the same network. Then the name of your TV will be displayed. Tap the name of your TV to pair and connect.
Note: make sure that both devices are connected to the same WiFi network connection and your TV should be a Miracast supported-TV so that the mirroring can be processed.
Handy tool – LetsView
Another top tier screen mirroring tool that can help you display the OnePlus 8 screen to your TV is LetsView. This amazing tool can help you mirror your OnePlus 8 without using any wires and cables. The good thing about this amazing tool is that it is a cross-platform tool that can be used on different devices' platforms like Windows, Mac, Android, iOS, as well as on a TV. To begin with, you can follow the simple and easy steps below to cast OnePlus 8 to TV.
Get the app and have it installed on your OnePlus 8 and your TV.
Launch the app on both devices, and scan the QR code displayed on your TV using the scanner in LetsView app on your Oneplus 8.

Your OnePlus 8 is now mirrored to your TV.
Practical method – ApowerMirror
The last tool we recommend for you to connect OnePlus 8 to TV is ApowerMirror. This can be used to mirror Android phone to PC and control phone from PC, and this also allows screen mirroring Android phone to TV. Therefore, you can display your phone screen and other files saved on your OnePlus 8 to a bigger screen and share with others. Check out the steps below to learn how to screen mirror OnePlus 8 to TV.
On OnePlus 8, install ApowerMirror from Google Play Store.
Launch the app on your phone and TV, you will see PIN code on your TV. Tap the asterisk icon on the upper right of the app interface, and enter the PIN code to build a connection.

Then your OnePlus 8 will be cast to your TV.
Conclusion
These are the best ways for screen mirroring OnePlus 8 to TV. These tools are all free and really helpful when casting your phone on your TV. You can choose the one that fits your need best. If you also want to mirror OnePlus 8 to PC, then try LetsView. This is totally free and provides many added features that make the screen mirroring more productive.