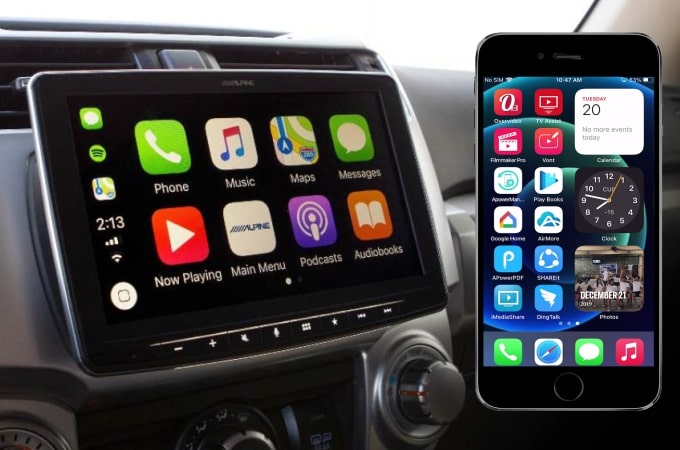 For fast and easy access to your iPhone while driving, you can mirror iPhone to car screen so you can share your iPhone screen with others in the car or just answer phone calls and video calls directly by just tapping your car's screen without being distracted by checking your phone. Here we listed three practical ways for you to do that.
How to Mirror iPhone to Car Screen
ApowerMirror
One of the best ways to cast your iPhone to your car screen is to use a screen mirroring app called ApowerMirror. With this superb screen mirroring app, you can conveniently drive in your car without holding your iPhone. You may control your iPhone on your car screen by tapping the command that you need. It allows screen mirroring with audio which is why you can easily turn on your favorite music.
Download and install the app on both devices.
Open the app on your phone and on your car screen. On your, iPhone tap the "Local Cast" button, for the app to start searching for the other device.

Next, tap the name of the car screen device and then tap the "Cast" option.
After that, tap "Start Broadcast" to start the mirroring activity.
CarPlay
A good tool to cast an iPhone screen to car display is by using the iPhone's built-in CarPlay feature. This helps you to use your iPhone's apps safely by just mirroring its screen to your car screen. With this, you can take control of your iPhone such as playing music and audiobooks. Also, another good thing about this feature is that it can anticipate traffic along the way and suggest another route as an alternative. Follow the simple steps below to learn how to connect iPhone to car screen and do screen mirroring using CarPlay.
Way 1: Wired Connection:
Plugin your iPhone to your car using a lightning cable.

Then tap the CarPlay logo that appeared on your car's screen.

Your iPhone is now mirrored to your Car's Screen.
Way 2: Wireless Connection:
Make sure that your car is compatible with a wireless CarPlay feature. Simply press the Voice Control button on your steering wheel.

On your iPhone, turn your Bluetooth on and pair it with your car.

To connect successfully, go to your iPhone's Settings > General > CarPlay then select your Car to mirror your iPhone to your Car's Screen.
EasyConnection
To display your iPhone to your car screen, you can also connect to Mirrorlink via EasyConnection. This amazing car application allows your car to be connected by a smartphone. Apps and other files such as audios and music can be displayed and streamed onto your car's screen and speakers. To learn how to mirror iPhone to car screen, you can follow the steps below.
On your car screen, tap Apps. Select EasyConnection > iPhone WiFi > change hotspot.
On your iPhone, go to Settings > Personal Hotspot and turn it on.

Go back to your car screen and connect to your iPhone Hotspot. Once connected, go back to the Apps menu and choose EasyConnection again.
Finally, swipe up to open the Control Center on your iPhone, tap Screen Mirroring, then tap the EC-Airplay from the options. Your iPhone will be then mirrored on your car.
Bottom Line
These are the best and practical ways for you to mirror iPhone to car display. CarPlay is recommended to be your first choice as it allows you to connect with or without lightning cable. With these methods, you can now drive safely without being distracted by using an iPhone.