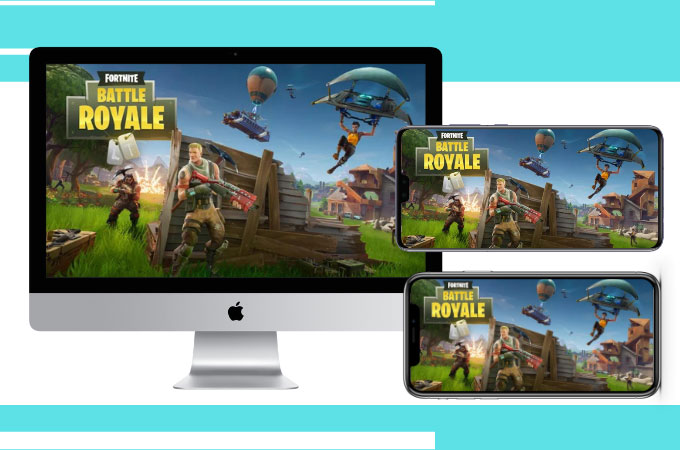 Playing mobile games is an excellent activity to kill boredom and to chill and hang out with your friends and siblings. One good game is Fortnite, where you can play a battle royale with your friends for free. However, if you are not good at playing games using your mobile phone and you have your Mac at home, you can use mirroring tools to help you how to play Fortnite on Mac fast and easily. Check these fantastic screen-mirroring devices available on Mac as they are discussed with proper steps on how to use them below.
Top 3 Tools to Help Play Fortnite on Mac
ApowerMirror
To play Fortnite on Macbook, the first mirroring tool that you must try is ApowerMirror. This amazing tool offers great and amazing screen mirroring ability without experiencing any lag or delay. With over 5 million users, ApowerMirror proved to be one of the best screen mirroring tools available so far. Aside from the mirroring process, you can also use its extra features, such as screen capturing, video screen recording, and whiteboard marker for annotation. Using this amazing tool, you can easily enjoy playing Fortnite from your phone via mirroring, and you can also record your best gameplay using its extra features and share it with your friends online. Here are the steps that you must follow in order to use ApowerMirror.
Download and install the app on your Mac.
Open the app, tap the Local Cast button and choose your Mac.

For Android, just hit phone screen mirroring and tap Start Now.

For iOS, show the Control Center, tap Screen Mirroring, and choose the name of your Mac.

Finally, launch Fortnite and enjoy playing.
Vysor
Another easy tool to assist you on how to use Fortnite on Mac is Vysor. This will help you put your mobile phone's screen on your desktop, Weather windows, or Mac. It offers to mirror and control your mobile phone via mouse pointer and keyboard of your desktop / Mac screen. Moreover, you can use its screenshot feature by using its free version and can enjoy other features like full-screen mode, go wireless, vysor share, and drag and drop files using the Vysor pro paid version. If you are interested in this tool, here are the steps that you must follow to start the mirroring process.
On your Mac, go to your web browser and download the app.

Launch the app once downloaded.

Connect your Android phone via a USB cable, and your phone will be automatically connected.

You can now launch and play Fortnite on your Mac.
Airdroid
The last tool that can help you play Fortnite on your Mac is Airdroid. This mirroring and casting tool allows you to access and take control of your mobile phone remotely by using your PC/Mac. You can manage SMS, files, contacts, photos, videos, and even play your favorite mobile game in full control using your PC/Mac's keyboard. If you have your phone and Mac at home, here are the steps that you can use to mirror your phone to your Mac and play Fortnite.
Get the app and have it installed on your Mac and Android phone.

Launch the app on both devices and scan the QR code displayed on your Mac's screen.

Once scanned, tap the Sign in button on your phone to make the mirroring process.

Your phone is now mirrored on your Mac, and you can now enjoy playing Fortnite.
Conclusion
The tools listed above are the top 3 of the best tools that you can use and rely on if you want to mirror your mobile phone to your Mac and play Fortnite. All tools provide extra features that can help you enjoy playing by taking screenshots and video recording your best gameplay among the three tools. Apowermirror offers the best mirroring with extra features that you can enjoy.