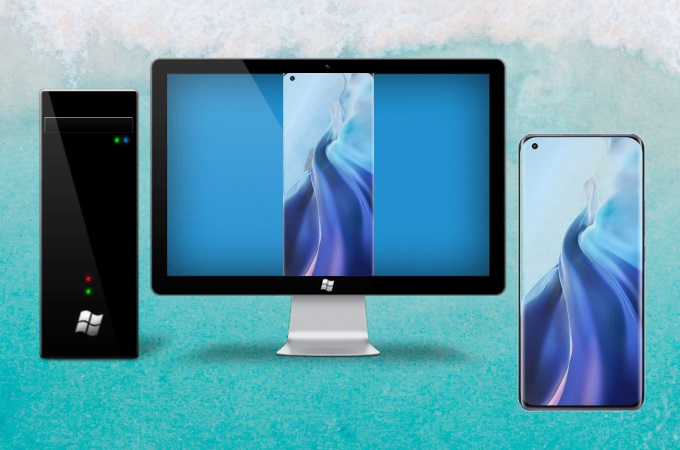 A few days ago after Christmas, Xiaomi has launched its latest and newest flagship which is the Xiaomi Mi 11. Its design is quite similar to the Xiaomi Mi 10 but offers a great deal of 2k screen resolution with a screen size of 6.81 inches that makes it one of Xiaomi's biggest phones. Being that, you may want to cast your Xiaomi phone to your PC to display its splendid screen. This article provides the top screen mirroring tools that you can use to mirror Xiaomi Mi 11 to PC. Check them out below. 
Built-in cast feature
The first method that you can use is by using its built-in cast feature. This is the simplest and the fastest way to mirror your Xiaomi phone without any other third-party app. To learn how to mirror Xiaomi Mi 11 to PC, here are the steps that you need to follow.
On you Xiaomi Mi 11, head to Settings > Connection & sharing > Cast, and it will auto-detect available devices under the same WiFi network.
Choose the name of your PC from the list to cast your phone to your PC.
Note: before casting, please connect your Xiaomi Mi 11 phone and PC to the same WiFi network to pair the device.
Free way – LetsView
Sometimes, the built-in cast feature might be unstable. At this moment, you can use the free screen mirroring LetsView to mirror Xiaomi Mi 11 to computer. This amazing tool offers a great experience when casting your phone's screen to your PC aside from being free. It lets you display everything that is being displayed on your Xiaomi Mi 11's screen to your PC in real-time. These include browsing photos, streaming videos, watching movies, and as well as playing mobile games. Start using this tool to screen mirror Xiaomi Mi 11 to your PC by just following the simple and easy steps listed below.
Download the application on both PC and Xiaomi Mi 11.
Launch the app on your phone and PC. LetsView on your phone will auto-detect devices. Just wait for it to recognize your PC. Once recognized, tap the name of your PC to start mirroring.
Handy tool – ApowerMirror
Another top screen mirroring tool that can also be a good help is ApowerMirror. It allows you to cast your devices' screen to a larger screen and make it your phone's external screen. With this, you can control your Xiaomi Mi 11 from PC and playing mobile games will be easier as it allows you to use your PC's keyboards and mouse as controls. Moreover, additional features are added such as screenshot taking, screen recording, and whiteboard for annotation. To use this amazing tool to cast Xiaomi Mi 11 to PC, simply follow the steps to follow.
Get the app and have it installed on your Xiaomi Mi 11 and PC.
Launch the app on both devices. Tap the Mirror button on your phone, choose your PC from the detected devices. Then select Mirror phone to PC, and press Start now to cast your Xiaomi Mi 11 to your PC.

Note: Make sure that both devices are connected to the same wireless network. You can also use a USB cable to build a connection if you prefer cables.
Conclusion
Above are the best ways for screen mirroring Xiaomi Mi 11 to PC. All the ways are simple and easy and you just need to follow the steps provided. The built-in screen mirroring feature of the phone can be hassle-free, but if you want to experience more than just screen mirroring, you can try the free app LetsView or the handy tool which is Apowermirror.