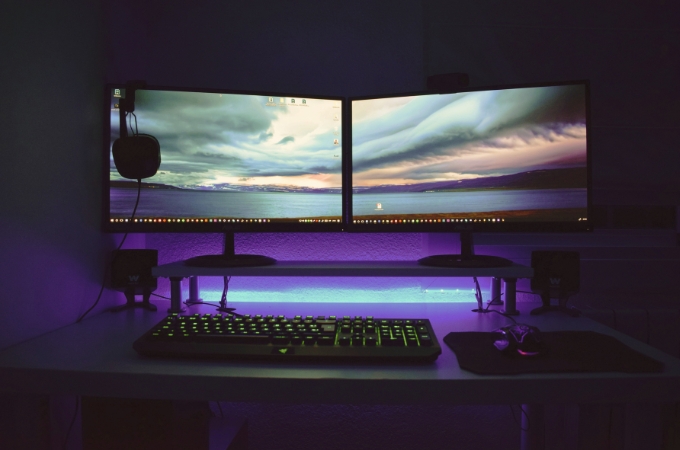 Are you fed up with the hassle of toggling between tabs and applications during your work? Say goodbye to the constant switching! Dual monitors offer a solution by expanding your workspace, providing ample screen real estate. This means you can effortlessly view different versions of your work or compare reference materials side by side, perfect for tasks that demand detailed comparisons. In addition, you can keep your communication and reference materials open on one screen while actively working on the other. To simplify and enhance your work life, we strongly recommend exploring multi monitor software – a game-changer for increased convenience and efficiency.
5 Dual Monitor Tools
LetsView
LetsView stands out as more than just a top-tier screen mirroring tool, but also your ultimate multi-monitor tool. You may enjoy the flexibility of extending your screen to various devices, including your Android and iOS mobile phones, iPad, and an additional PC screen. Also, with LetsView the process is wire-free, eliminating the need for cumbersome cables and wires. Experience a smooth, high-quality dual-screen display with ease.
But that's not all – LetsView goes the extra mile by giving you control over your second screen using simple gestures. Navigate effortlessly with your fingertips as you zoom in and out, flip the screen side by side, and utilize a virtual keyboard for text input or searches. LetsView transforms your multi-monitor experience into a dynamic and user-friendly venture.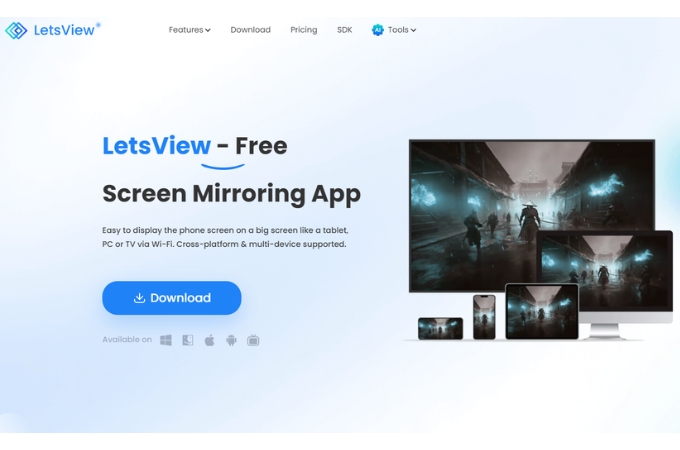 DisplayFusion
DisplayFusion is a great multi-monitor software that can significantly simplify your work. You'll be impressed by its many handy features. Some of the powerful tools it offers include Multi-Monitor Taskbars, TitleBar Buttons, and fully customizable Hotkeys. These features make it quick and easy to manage your multi-monitor setup. Plus, if you'd rather not invest in another physical monitor for your second screen, DisplayFusion lets you split it into two. This means you can divide your monitor into multiple virtual monitors, each with its own taskbars, wallpaper, and screensaver.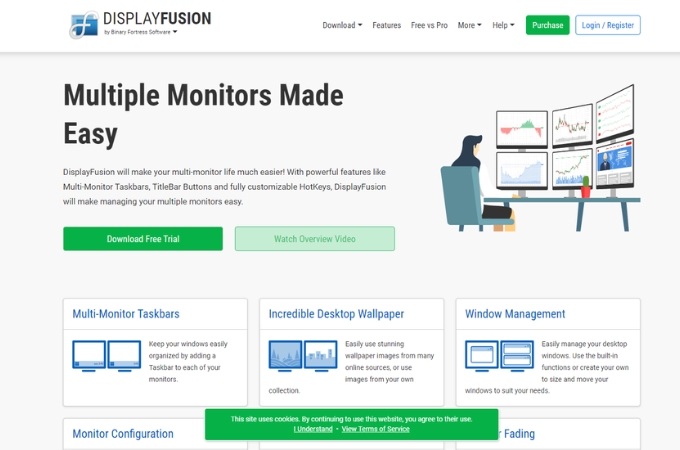 Synergy
Synergy, a powerful dual monitor software, allows you to seamlessly control two or more screens using a single keyboard and mouse. Besides, with this tool, you may experience instant and delay-free switching by effortlessly moving your mouse between monitors. Also, Synergy is compatible with Windows, macOS, and Linux, Synergy ensures a versatile solution for users across different platforms. 
With this innovative software, you can increase your productivity and streamline your workflow. Imagine having the ability to manage multiple screens effortlessly, making it easier to complete your work efficiently. In that, say goodbye to the hassle of juggling between keyboards and mouse – Synergy offers a unified and efficient control solution for your multi-monitor setup.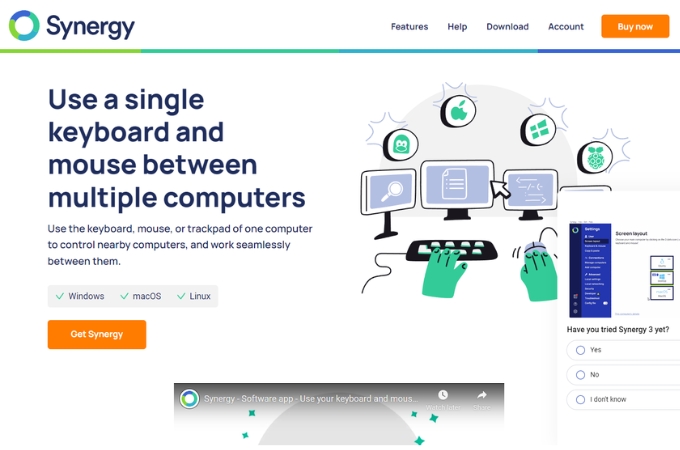 Spacedesk
Spacedesk provides a dual monitor display solution which makes it one of the best dual monitor tools, enabling you to use LAN devices and computers as additional displays for your Windows desktop. Furthermore, this tool is a game-changer for multitasking, supporting various monitoring devices, including Windows Desktop Extension with up to x10-sion capabilities. Additionally, Spacedesk accommodates touchscreen devices, making it particularly useful for live presentations and visual control. Furthermore, this tool is a great asset for creating multiple screens in a networked display environment.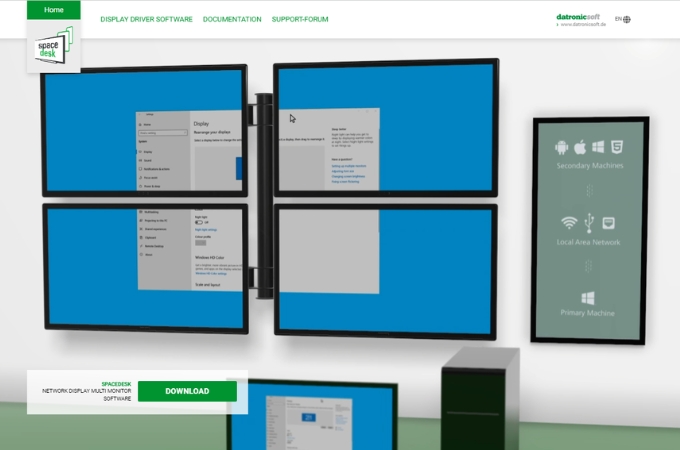 Duet Display
DuetDisplay, a remarkable multi-monitor tool, promises a lag-free experience as it seamlessly extends your Mac or PC screen to other devices, creating a high-performance second display. What's more, this superb tool ensures a lightning-fast connection, whether wired or wireless, providing instant responsiveness. Besides, beyond its speed, DuetDisplay brings a range of features to enhance your user experience, including support for touch gestures, shortcuts, color correction, and palm rejection.
What sets DuetDisplay apart is its versatility – not only can you utilize this tool in the same room, but it also offers the convenience of use from anywhere in the world. Also, this flexibility makes it an ideal solution for professionals and remote workers seeking a reliable and feature-rich multi-monitor experience.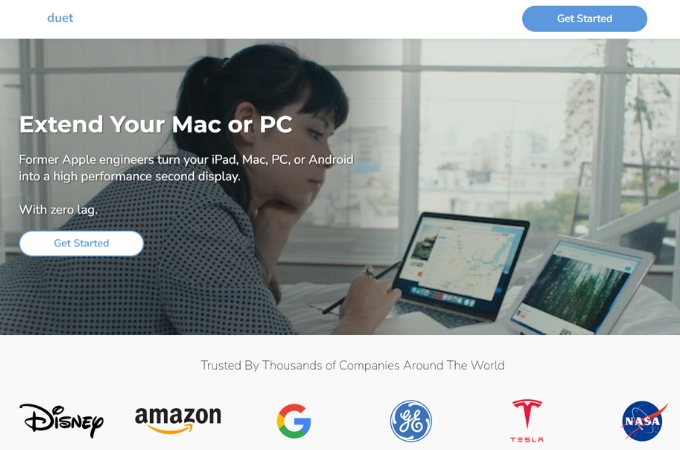 Conclusion
In conclusion, using dual monitor tools like LetsView, DisplayFusion, Synergy, Spacedesk, and Duet Display can make your work much easier. These tools help you manage tasks, improve workflow, and boost productivity. Whether you're extending screens, organizing virtual monitors, or creating a second display, these tools cater to different needs. Giving you flexibility and efficiency for a better work experience.