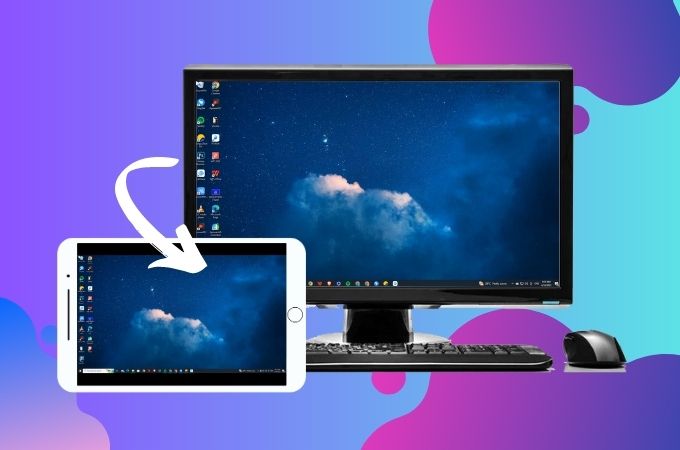 Together with technology we always seek innovations and efficiency in our work. Now that we have different methods that will surely help all of us to create an expansive workspace, just like how we use iPad as second screen. With the iPad serving as a second monitor, you can conveniently have everything on your desktop screen without your presence in front of your desktop computer. Moreover, it offers the advantage of saving both money and effort by eliminating the need to purchase a separate monitor. To directly connect your desktop to your iPad as your second screen, here are several apps that you can install easily.
3 Best Ways to Use iPad as Second Monitor
LetsView
This reliable app that you may install on your iPad and desktop is LetsView, which is a free screen mirroring app. In learning how to use iPad as second screen this app surely will guide you in a simple and effective way. You can wirelessly do the mirroring activity in its intuitive interface, making it easy to set the connection between your two devices. This will enable you to utilize your iPad as a secondary monitor. In addition to LetsView, it is compatible with both Windows and Mac operating systems, allowing a lot of users to freely use this superb screen-sharing app. More than that, LetsView has additional features which include screen recording and screen annotation. Try this 100% free app and get ready to satisfy your mirroring activity.
Download the app from its official website on both of your devices. Follow the on-screen instructions to successfully install it on your iPad and computer.
Check if your iPad and computer are connected on the same Wi-Fi connection before you can use iPad as second monitor. After that, launch the app on both devices.
On your iPad, tap the asterisk icon at the upper right corner of the screen to get the PIN code.
Then, on your PC click the "Mirror" tab and enter the passkey that you have on your iPad.

Next, tap "Allow" to start the mirroring process.
ApowerMirror
The second app that you may rely on for you to use iPad as a second screen is ApowerMirror. This simple yet amazing app has already proven itself in screen mirroring activity. Giving you a convenient solution in extending your computer screen with the use of an iPad. With this app, you can wirelessly connect your PC to your iPad without exerting so much effort. Indeed, with ApowerMirror you can directly mirror your PC's screen to your iPad for you to access your files and applications on the go. What is more amazing about this app is that it also offers additional features like screen recording, screen sharing with audio, and many more. No wonder this app's features can effectively enhance your productivity and expand your workspace.
Install ApowerMirror on your iPad by downloading it from the App Store. Likewise, obtain the desktop version of the application from its official site on the internet for you to experience how to use iPad as second monitor.
Open the app on both devices, but before that connect them on the same internet connection.
Go to your iPad and tap the PIN code icon, a new interface will show up giving you the number code that you need.

Next, on your PC click the "Wireless Connection" option and choose "I'm Sender".

Enter the code displayed on your iPad. Hit the mirroring icon on the side of the bar and your PC will be mirrored on your iPad.
Splashtop Wired XDisplay
The last app that is included in this list for you to use iPad as second screen is none other than Splashtop Wired XDisplay. Just like the other apps above, Splashtop will also allow you to extend your computer screen to your iPad using a wired USB connection. With this app you will experience a smooth and responsive screen sharing activity that will directly interact with your PC content using your iPad's touch interface. However, the only downfall of this app is that it doesn't support wireless connection, it just requires USB cable.
Get the app from the App Store for the iPad device, while you may download the computer agent from its official page.
Install it on both of your devices. Then, open them afterwards.
After that use a USB cable to plug your iPad to your PC.
Then, on your computer, click "Advanced" and remove the check mark to "Enable Mirror Mode".
You may now start the mirroring process where you can use iPad as second monitor.
Conclusion
Using an iPad as another monitor offers a lot of benefits. This way will eliminate the need for purchasing an additional physical monitor, saving both money and desk space. Whether you're a professional, student, or someone seeking a portable solution, to use iPad as second screen enhances your digital workflow, providing flexibility and unlocking new levels of productivity.