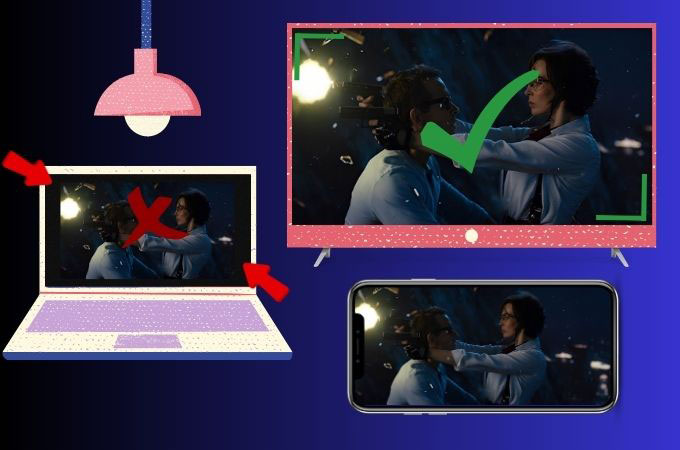 Having a full-screen view of your iPhone's content on a bigger screen such as PC and TV will definitely give you excitement. However, in some cases, there are these black spaces that give us distraction in watching and viewing the content from our small screen phone to a bigger display. For that reason, we will give you some ideal solutions on how to make screen mirroring full-screen iPhones. Further, read this article for you to learn the effective and efficient ways.
How to Make Screen Mirroring Full Screen
Screen Mirroring on Full Screen
We all know that screen mirroring has always been the solution in viewing content from small devices to a bigger screen. Having a more enjoyable experience especially when a group of people wants to view the same content. But that's not it, the effective screen mirroring in full screen is viewing the entire content of one small device's screen onto another display without any black borders.
The "full screen" aspect of screen mirroring ensures that the content fills the entire area of the larger display, preserving the original aspect ratio and resolution of the source device. This means that there are no black bars on the sides, top, or bottom of the mirrored content, providing a seamless and immersive viewing experience.
Best Screen Mirroring Apps Worth Trying Out
If you are looking for the best screen mirroring apps? Look no further! Listed below are the two top-notch apps that offer smooth screen-sharing experiences across different devices, making them worth trying out.
LetsView
LetsView is mainly known for its free service yet can provide a high-quality screen mirroring result. With the help of this app, you can easily learn how to make screen mirroring full-screen iPhones. LetsView utilizes wireless connectivity, eliminating the need for cables and providing a clutter-free setup for mirroring your devices. Ensuring a smooth and real-time mirroring with your iPhone's content onto a larger display. In addition, this app offers a screen recording feature where you can capture and save the mirrored content.
Full Screen on PC and TV
Ensure your devices are connected to the same Wi-Fi network. After that, open the app on your PC or TV.
Then, on your iPhone swipe down on the right corner to have the control center.
Tap the screen mirroring icon and wait for the name of your device that you want to do the mirroring activity.

Next, your iPhone's content will be mirrored automatically on your PC or TV.
On your PC, click the "Full Screen" icon to enjoy a full-screen view of the mirrored content.
ApowerMirror
ApowerMirror is a well-known and highly useful screen mirroring app that will help you on how to make screen mirroring full screen. This app is known for its straightforward way of connecting devices wirelessly. From your iPhone and Android devices to your PC or TV screen, which you can enjoy a full display of your mobile device's content. With the ability to eliminate black spaces and present content in full-screen mode, it can enhance the overall viewing experience when streaming videos, showcasing photos, or conducting presentations. Try ApowerMirror by clicking the download buttons below.
Full Screen on PC and TV
Before launching the app on your iPhone and PC or TV, make sure to connect them first on the same internet connection.
On your iPhone, go to the control center and tap the mirroring icon.
The iPhone will show a list of devices that you can connect to.

Choose the name of the devices with a bigger screen. After that, the mirroring process will start.
You will automatically have a full-screen view of the content from your iPhone to your TV. While on your PC, you just need to click the "Full Screen" icon.
Conclusion
Those are the simple ways for you to know how to make screen mirroring full screen. If you don't want to set up manually on your PC and TV, these apps will help you effectively. ApowerMirror and LetsView stand out as reliable and feature-rich screen mirroring tools. It is up to you which app you will use to make your screen-sharing activity fast and easy. If you know another amazing app that can do the full-screen view let us know in the comment section below.