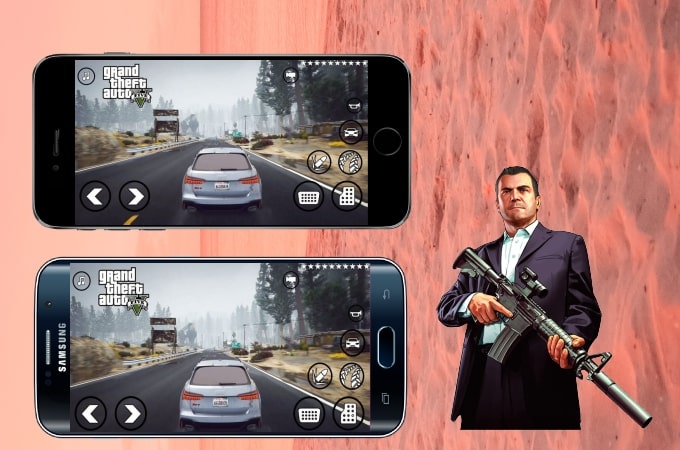 Grand Theft Auto V, also known as GTA 5 is an action/adventure game on PC which is highly popular worldwide. A lot of gamers are looking for the best ways on how to play GTA 5 on Android as well as on iOS devices. This article will provide you the best ways to do that. Read on to learn more.
How to Play GTA 5 on Android and iOS
ApowerMirror
To play GTA 5 on mobile, the first tool you can use is ApowerMirror. This amazing screen mirroring tool allows you to cast your screen to your PC and/or vice-versa so you can play mobile games on PC and PC games on mobile. This amazing tool offers additional features like screen recording and annotator, which you can use when live streaming GTA 5. Just follow the steps below to learn how to play GTA 5 on Android and iOS devices.
Before we get started, simply download and software on your PC. Once done, open it. Make sure to connect your phone and PC to the same WiFi network.
For Android:
Tap the Mirror button to detect devices. Choose your PC's name from the devices list, then tap Mirror PC to Phone. Hit Start now to mirror your phone to your PC.

Finally, open GTA 5 on your PC and start playing it on your Android phone.
For iOS:
Hit the Mirror button to search for devices under the same wireless connection. Then follow the instructions and open the Control Center. Tap Screen Mirroring then choose the name of your PC to connect.

Launch GTA 5 on your PC, then you can start to play GTA 5 on iPhone.
Steam Link
Another way that you can use to play GTA 5 on iOS and Android is by using the Steam Link. This allows you to play and stream computer games to other devices like your TV or mobile phones. Moreover, you can also pair and connect multiple devices and/or a Steam Controller directly to your link. All you need to do is connect all devices under the same WiFi. Get started to play GTA 5 on your iOS and Android devices by using the steps below.
Download the application on your Android (Google Play Store) on iOS (App Store).
Launch the app and tap the Get Started button.

Choose either to Pair Controller or just skip if your want to use touch control of your mobile device's screen.

Next, scan available devices by tapping the computer icon on the screen to connect your phone to your computer. Once connected, go to the settings of the Steam app and choose Remote Play.

Pair both devices by entering the code.

Once connected, click Start Playing then search for GTA 5 from the library and start playing.
Conclusion
Above are the best and easiest ways on how to play GTA 5 on your Android and iOS devices. With the given steps, you can now play it easily without any hassle. However, if you are looking for a tool that you can use to record your game or live streaming to share it with your friends, you can use ApowerMirror, as it offers screen recording and screen capturing features.