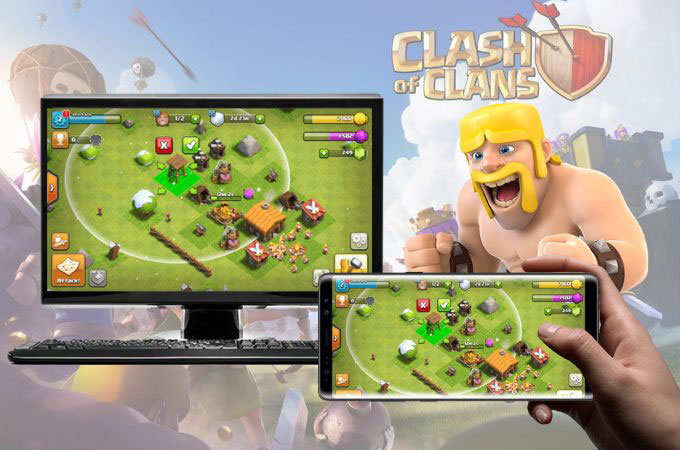 Getting bored playing Clash of Clans on your small mobile screen? Look no further than experiencing it on your PC. A bigger screen, enhanced controls, and improved performance will be your advantages on a more comfortable gaming experience. Alongside with the best screen mirroring apps, the transition from your mobile device to your computer will be possible. We listed the best screen-sharing apps that you can easily find on the internet. Play COC on PC and unleash your gaming potential.
Clash of Clans PC: Best 3 Screen Mirroring Apps of 2023
LetsView
The first app that we have in this list is none other than the LetsView app. While it offers basic screen mirroring functionality, it will not ask you to spend money because this app offers a 100% free screen mirroring service. You may play COC on PC wirelessly, eliminating the need for a physical cable. Moreover, just like the above app, LetsView also has a built-in screen recording feature that can be useful if you are creating tutorials, sharing your gameplay, or recording important moments while playing COC. Having this screen sharing app can provide you the fundamental screen mirroring functionality while playing your favorite game on your PC.
Download the LetsView app on your mobile device and PC from its official page.
Before launching the app, you need to connect them first on the same internet connection.
On your phone, tap "Redetect" for the mobile phone to search for all the available devices nearby.
Choose the name of your PC and tap the "Phone Screen Mirroring" option.
After that, you may hit the "Start Now" button to begin the mirroring activity.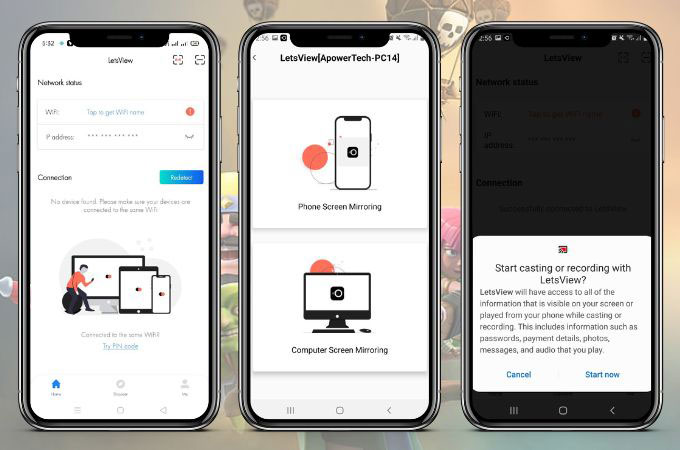 ApowerMirror
Let us have this app in this list which is ApowerMirror. This well-known app already displays its amazing features to help you out in doing the screen mirroring activity between your phone and computer. It will not only let you view the game but also play Clash of Clans on PC  which you will experience on a bigger screen. Also, you can control COC on your mobile device using your PC's keyboard and mouse. Not only that, the app can also capture screenshots and record your gameplay while having the mirroring activity. In addition, you may do multitask wherein you can receive and manage your mobile notifications on your computer while playing COC. 
Install the ApowerMirror on both your phone and PC. You may just download it by clicking the download buttons above.
After the installation process, connect both devices to the same Wi-Fi network.
Then, open the app on your phone and PC. On your phone tap the "Local Cast" for your phone to search for the available devices.
Select the name of your computer and choose "Mirror Phone to PC".
Finally, hit "Start Now" to begin the screen mirroring activity.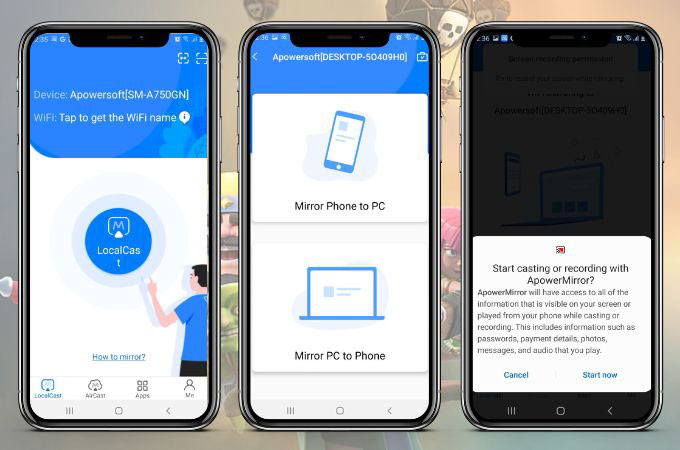 Vysor
Enjoy the game Clash of Clans PC on a larger screen with Vysor. With Vysor, you can control your phone device screen using your PC's keyboard and mouse. This will let you have the controls which can be advantageous for playing COC. However, Vysor can only be compatible on Android devices and its pro version can only provide the option to connect your phone to PC wirelessly. These features you may only access if you have the pro version can enhance your COC gameplay, offering you better controls on a larger display.
Download and install the Vysor app from its official website on your computer and on your phone, enable USB Debugging.
Then, connect your phone to the PC via USB. Make sure the USB connection is set to "File Transfer" or "Media Transfer" mode.
Open the Vysor app on your PC. It will automatically detect your connected mobile device.
Next, on your phone tap "Allow" to grant the permission.
Once the device is detected in Vysor, click on its name to begin the connection.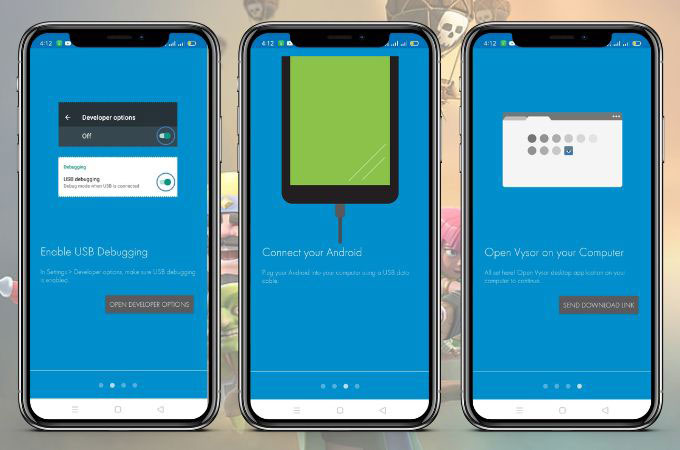 Conclusion
ApowerMirror, LetsView, and Vysor are popular screen mirroring applications that enable users to play Clash of Clans on PC and other mobile games on a larger screen. While these tools provide similar basic screen mirroring functionality, each has its own unique features that can enhance the gaming experience. So, you may try all these apps and see which one will work best for you. Share with us your chosen partner in playing COC on a bigger screen in the comment section below.