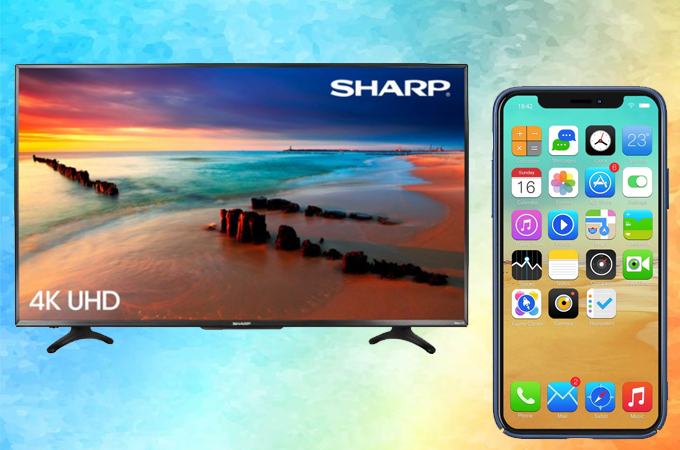 As the number of iOS users continues to increase, so do the different ways to mirror iOS devices to bigger screen devices like computers and TV. This has been an issue because iOS is very strict about which apps can be used So, although the list is short because of Apple's high standards, we have the best apps compatible with iOS devices and TVs. We will mirror iPhone to Sharp TV as an example.
How to Mirror iPhone to Sharp TV
ApowerMirror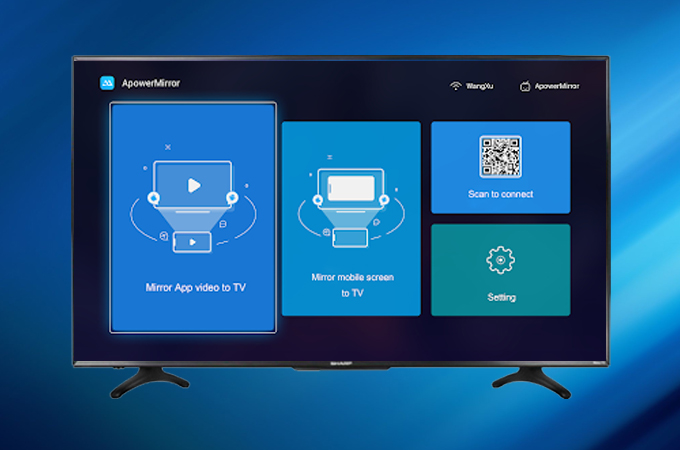 ApowerMirror made it to the top of the list because of its great advantages. it is one of the most versatile apps compatible with most device platforms. One great feature that you will surely love is its ability to mirror multiple devices on your computer at the same time. More importantly, this app is compatible with Sharp TV. That being said, to display iPhone on Sharp TV is very easy using this app.
Use the download buttons to get the app and install it on your PC.
Connect both devices under the same Wi-Fi network.
Launch the app on your phone and TV.

Get the pin on your TV and enter it on your phone
On your mobile device, click the first icon to the top right part of the main interface of the tool
Enter the pin on the pin field and tap "Start mirroring" to start the broadcast.
LetsView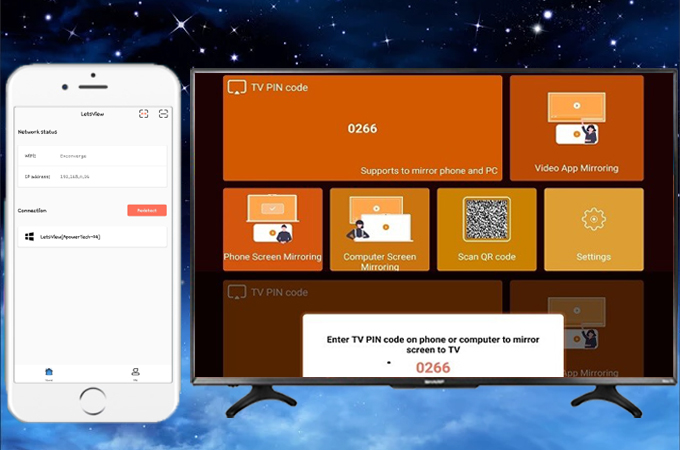 The next way to cast iPhone to Sharp TV is by using a free screen mirroring app compatible with any device. LetsView will exceed your expectations regarding free apps. This app can do most anything a paid app can do. Not every free app can rise to that level. You can screen mirror, screen record, and screen capture while you are mirroring. On top of that, this tool is Miracast ready. This means it is compatible any device with Miracast capability. This means it will also work with Sharp TV. To screen mirror iPhone to Sharp TV here is how.
Download the app using the button below.
If your Sharp TV has Miracast or any dongle, it will be great, this means you won't have to download the app on your TV.
All you have to do now is to connect your TV and phone under the same Wi-Fi network.
Then launch the app on your phone.
Wait until the name of your TV appears and tap it.
The mirroring will then begin.
Airbeam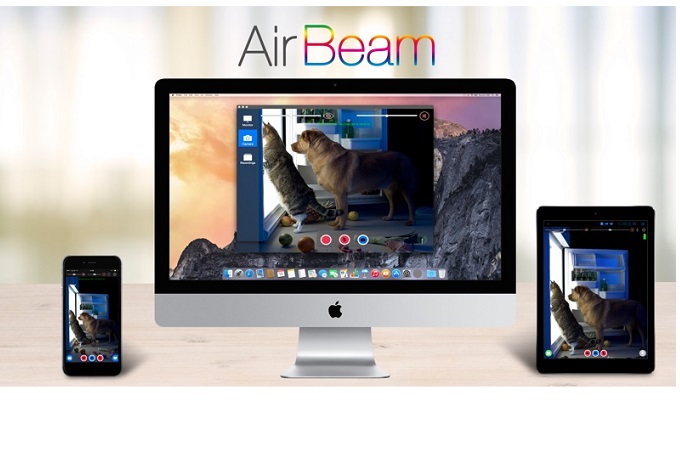 Airbeam was specifically made to mirror iOS devices to TVs and other devices. This will help you stream movies and videos on Mac and other devices including Sharp TV. Effortlessly do it wirelessly without either cables or hardware. Obviously, you can maximize y our iOS device using this app since the permissions and restrictions met the standard of iOS. If you will also check the main page of the app, Sharp is included on the list of supported TVs. Meanwhile, here is a guide on how to screen mirror iPhone to Sharp TV.
Download and install it on iOS device and TV.
Connect devices under the same Wi-Fi.
Launch the app and wait until the name of your TV appears on your phone.
Tap the name of the TV and tap "Screen Mirroring".
Conclusion
All three options are all compatible to mirror iPhone to Sharp TV. The steps to follow are less complicated and easy to follow. You can try them to figure out which one is best for you . Let us know if you have some questions by dropping a comment below.