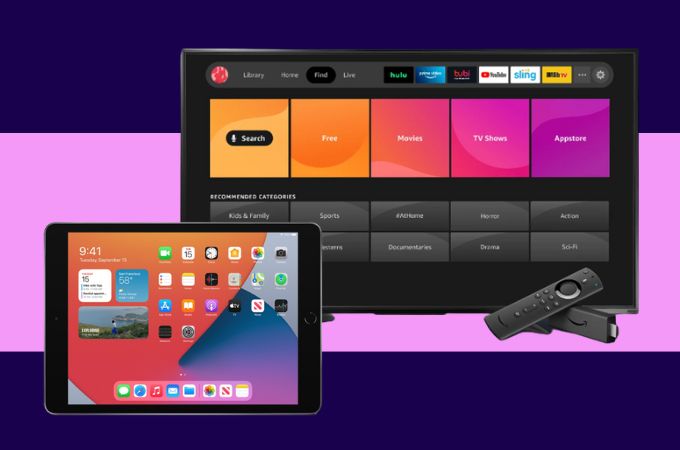 Imagine having all your favorite movies, TV shows, and videos stored on your iPad. But what if you could take your viewing experience to the next level by enjoying them on a larger screen? That's where the magic of casting your iPad to FireStick comes into play. By effortlessly streaming and mirroring your iPad's content onto a television, you can do what you want on a bigger screen. Whether you're planning an unforgettable movie night with friends, need to deliver a captivating presentation at work, or simply want to relive cherished memories on a grand scale, casting your iPad to FireStick unveils a world of limitless possibilities. See the simple steps below for you to directly cast iPad to Firestick.
Top 5 Apps to Mirror iPad to Firestick
LetsView
Introducing the LetsView app, a convenient solution that allows you to effortlessly mirror your iPad screen on your Firestick TV. With this screen mirroring app you can simply setup process, all it takes is scanning a QR code or using a passkey on your iPad and also mobile phone to pair it with the TV. Whether you own the latest Fire TV version or an older model, this app performs seamlessly across all devices. Streamlining the sharing of media files and presentations, LetsView enables you to effortlessly transmit content from your iPad to the TV with just a few clicks. Immerse yourself in a high-definition viewing experience, thanks to the app's support for HD-quality content. Moreover, this app boasts a user-friendly interface, ensuring an intuitive and enjoyable mirroring experience. Cast iPad to Firestick with the simple steps below.
Download and install the app by just clicking the "Download" buttons above.
After the installation process, be sure to connect your iPad and Firestick TV to the same Wi-Fi connection.
Open the app on both devices. On your iPad tap the "+ Screen Mirroring" button and wait for the list of available devices.
Select the name of your Firestick TV and hit the "Start Live Broadcast" button.
Finally, your iPad's screen will be mirrored on your Firestick TV.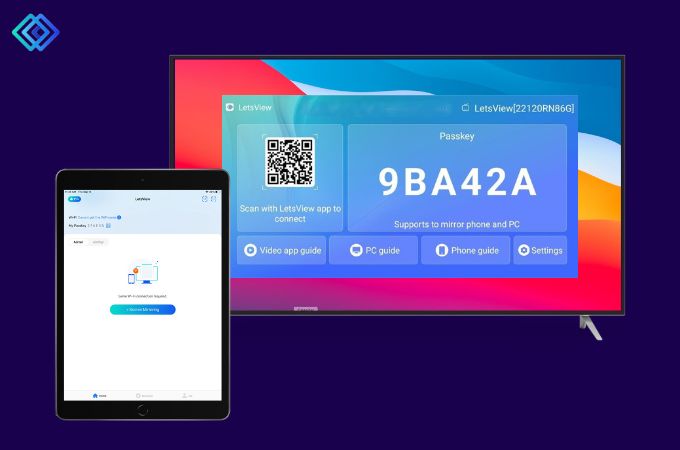 ApowerMirror
ApowerMirror is undoubtedly one of the top-notch applications available for mirroring your iPad to Firestick. It offers the perfect solution for projecting your iPad screen onto both your PC and TV, allowing you to seamlessly control your device on a larger screen. Not only can you screen share your iPad screen but also your mobile phones and your PC onto your TV. In addition to mirroring, this versatile app enables screen recording and annotation. What's more, ApowerMirror supports both wireless and USB cable connections. Follow the steps below to screen mirror iPad to Firestick using ApowerMirror.
Go to the official page of ApowerMirror or simply hit the download buttons above to download the app on both devices.
Then, launch the app on your iPad and Firestick TV. On your iPad choose between the em dash icon or QR code icon to scan or input the code that is automatically shown on your TV.
After that, tap the "Start Broadcast" option to start the screen mirroring activity.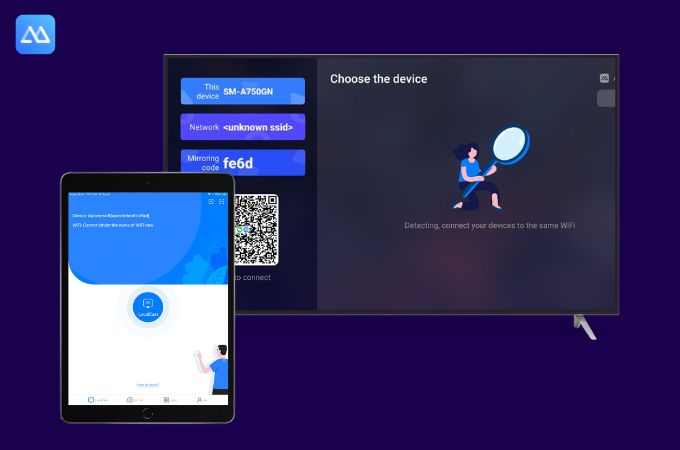 Screen Mirroring App
Experience the exceptional features of Screen Mirroring Pro, an outstanding AirPlay app designed specifically for Firestick TV. This remarkable app stands out due to its extensive array of screen-sharing options, providing you with unparalleled control over picture and video quality. Having a user-friendly interface is a breeze, allowing you to effortlessly pair your phone with the Fire TV. Whether you're in the mood for gaming or eager to indulge in a movie marathon, this versatile AirPlay app caters to all your entertainment needs. Mirror your iPad to Firestick and enjoy the convenience and versatility of Screen Mirroring App as you unlock a world of wireless screen-sharing possibilities.
First, you need to connect both devices on the same internet connection.
Then, On your TV, go to "Settings" > "Display & Sounds" > and then enable the screen mirroring option.
Next, on your iPad download the Screen Mirroring App from the App Store. Launch the app afterwards.
After that, the app will automatically detect your Firestick TV.
Tap on your Firestick TV name from the list and your iPad screen will start mirroring on your TV.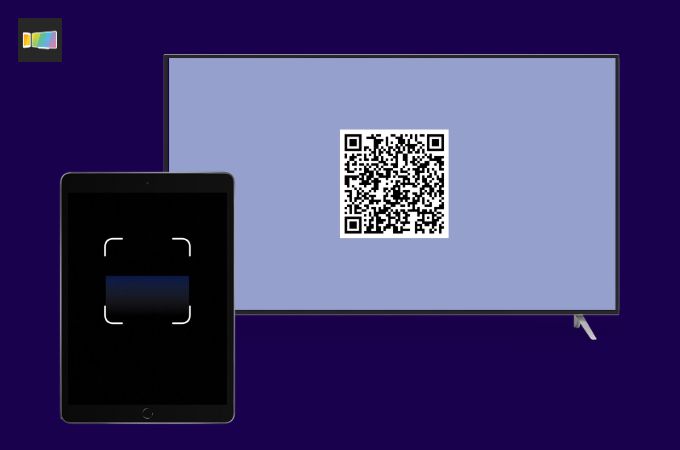 TV Cast for Fire TV
Another app that you may try using is TV Cast for Fire TV, a remarkable tool that enables you to effortlessly cast your iPhone or iPad to Firestick. Immerse yourself in a seamless streaming experience as you project a wide range of videos, photos, and music onto your Firestick TV screen. What's more, you have the ability to cast your personal media files directly onto your streaming device. By mirroring your iPad using TV Cast for Fire TV, you can now indulge in the pleasure of browsing and streaming your favorite videos, movies, and series on a grander scale. See the straightforward guide to screen mirror iPad to Firestick with the help of TV Cast for Fire TV.
Go to the app store on your iPad to download and install TV Cast for Fire TV app.
Then, make sure to connect both your iPad and Firestick TV to the same local network.
Next, open the app on your iPad, It will search for your Firestick TV. Choose the name of your TV as soon as it is found.
After that, click "Start Mirroring" and start mirroring your iPad's content to your Firestick TV.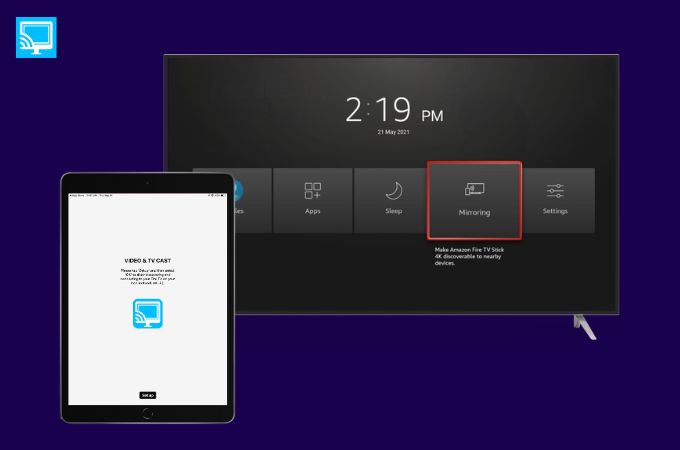 Fire Remote for TV
A highly popular screen mirroring application readily available for download on the Amazon App Store. With AirBuddy, you can effortlessly project and cast your iPad to Firestick and see a larger display. Immerse yourself in a high-definition viewing experience as you enjoy playing videos, music, photos, and even app content such as YouTube videos on your TV screen. Please note that AirBuddy on Amazon Firestick does not support the playback of videos recorded on your Apple devices. The free version of AirBuddy allows for continuous playback for up to 15 minutes. If you wish to mirror your Apple device screen to Amazon Firestick continuously, consider purchasing the premium or pro version of AirBuddy.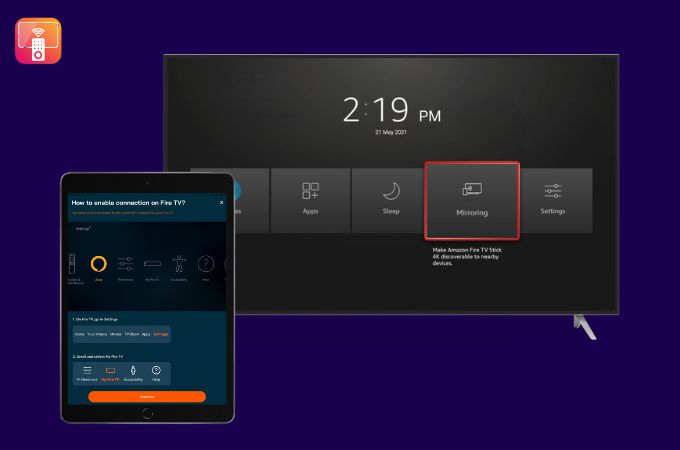 Conclusion
Mirror iPad to Firestick has become incredibly convenient with the help of these 5 screen mirroring apps. Gone are the days when you needed to purchase an Apple TV just for this purpose. You can easily use a Fire TV or any other smart TV that you have access to. If you have any other recommendations for mirroring your iPhone to Firestick TV, feel free to share them with us in the comments section below.