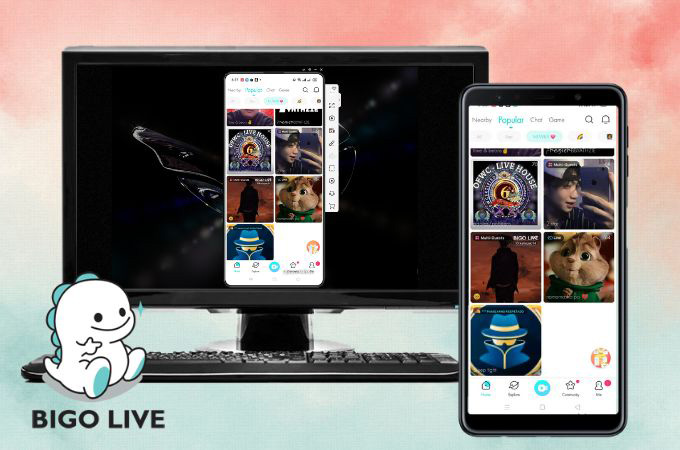 Broadcast your video in real time with this live-streaming platform called Bigo Live. This program will let you enjoy not only live streams, but also game streaming, live chat with your old and new friends around the world, and many more. And because it is a streaming media, you may experience it best on a bigger screen. In that, you may watch Bigo Live on PC and be entertained with different content waiting for you such as love tips, language training, astrology consultation, and more. Check these superb best screen mirroring apps that you may easily use.
5 Ways How to get Bigo Live on PC
ApowerMirror
Have fun mirroring your Bigo Live streaming on your PC with ApowerMirror. This app will let you connect your mobile phone to a PC with or without a cable. This reliable app will allow you to conveniently do your live broadcast on Bigo Live, from streaming games to doing your live chats, powerMirror is indeed the best screen mirroring app for you. Other than that, this app also offers features that are really useful for your live streaming activities such as taking screenshots, recording screens, having it in full display, and more. See these simple steps to use Bigo Live on PC.
Download and install the ApowerMirror app on your mobile phone and PC.
Open both devices. On your phone, click the "Local Cast" button and wait for the name of your PC to show up.
Choose the name of your PC and select "Mirror Phone to PC".

Then, tap "Start Now" to start the mirroring activity.
LetsView
The next app that we have is LetsView. This app offers a totally free screen mirroring service to all its users. Its powerful features will help you to mirror your Bigo Live on your phone to your PC directly. This will also smoothly connect multiple platforms and devices. With LetsView, displaying the content in real-time is always a high-quality visual feast. Here is the guide on how to use Bigo Live on PC.
Get the app from its official homepage and install it on your device.
Then, connect your phone and PC to the same WiFi connection.
Next, choose the name of the PC to which you will connect your phone.
After that, you may tap the "Start Now" to successfully mirror your Bigo Live.
Bigo Live Website
Play your Bigo live on PC with their own Bigo Live program. Let us not go any further and enjoy your live broadcast with this streaming platform. Watch all the quality streams that you have directly on your PC with this program. Explore and go viral within your ground and discover more useful features that you may rely on. Watch Bigo Live on PC now with its very own Play Bigo Live on PC. Check the steps below.
First stop, download and install the app on your desktop and phone.
Then, look for BIgo Live in the search bar.
Click the Bigo Live icon on the screen and start playing.
Airdroid
Airdroid is one of the trusted screen mirroring apps that you may have on your mobile phone. This app will help you manage your phone-to-PC setup without any hassle. It supports screencasting with your entertaining needs on your Bigo Live. Things will get better with this wonderful app. More than that, you can easily be familiarized with the app because of the provided guidelines that you may access on the website itself. Here is how to Use Bigo Live on PC.
Go to the official website to download and install the app that you need.
From the app's interface, tap the "Screen Cast" and scan the QR code on your PC to have the connection.
Hit the "Start Now" button afterward to start the mirroring process.
Screen Mirroring – Live Screen
Discover this superb screen mirroring app that you can use to cast your phone to your PC easily. Screen Mirroring is an application that will allow you to stream your Android and iPhone screens to your PC. With this helpful tool, you can freely enjoy watching your real-time broadcast and share your gameplay on a bigger screen. Here are the steps that you need to follow.
Download the app on your phone and PC.
Next, click the "Screen Mirroring On". Then, open the web address to view the device's screen.
Copy the address on the web and start mirroring.
Conclusion
All the apps that were mentioned above are all worth it for you to use Bigo Live on PC. It is just up to you which of these 5 tools will meet your preferences on a screen mirroring up. You may go to ApowerMirror and LetsView if you want a user-friendly interface. You may have the Airdroid for all the android users out there, or you may just go directly to Play Bigo Live on PC to directly do your streaming.