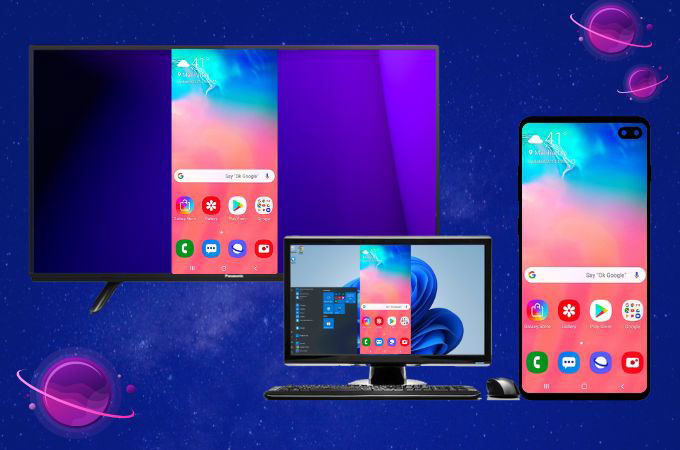 Galaxy S10 screen mirroring is a useful feature that allows you to share your phone's screen with other devices, such as a TV, computer, or projector. With screen mirroring, you can easily stream movies, videos, and games from your phone to a larger display, making it a convenient option for presentations, entertainment, and gaming. In this guide, we will explore the different methods to enable screen mirroring on your Galaxy S10 and provide tips and tricks to ensure a seamless experience.
Best Ways to Do Screen Mirroring Samsung S10
Smart View
Smart View is a Samsung feature that enables users to display the screen of their Samsung mobile device on a bigger display like a TV or monitor. The feature works through Wi-Fi Direct technology, which allows for a wireless connection between the Samsung device and the larger screen. With Smart View, users can stream videos, play games, or show photos on a larger screen. Likewise, the feature is available on several Samsung S10 mirror screens and is also compatible with various platforms such as Android, iOS, and Windows. Additionally, Smart View provides other capabilities, such as media casting, screen recording, and remote control.
Here are simple steps that you may follow.
First thing is to make sure your Samsung S10 and the TV or monitor are connected to the same Wi-Fi network.
On your Samsung S10, swipe down from the top of the screen to access the Quick Settings panel.
Next, look for the Smart View icon (it looks like a rectangle with a Wi-Fi signal inside), and tap on it.
Your phone will search for available devices to connect to. When your TV or monitor appears on the list, tap on it to connect.
Once connected, your Samsung S10's screen will be mirrored on the bigger screen. You can now enjoy your content on a bigger display.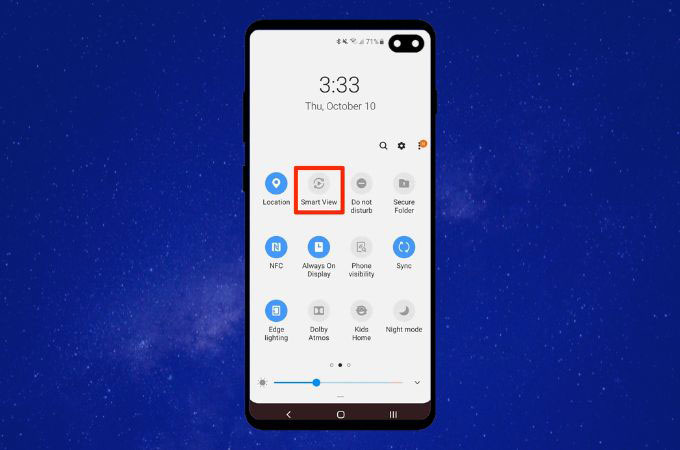 Samsung Dex
SamsungDex enables users to have Galaxy S10 screen mirroring to a larger screen, keyboard, and mouse, and use it like a computer. With Samsung DeX, users can access mobile apps, documents, and multimedia content in a desktop-style environment. Also, you can use multiple windows, drag and drop files between apps, and resize app windows, just like on a desktop computer. Another thing is that it supports multi-tasking, allowing users to run multiple apps at the same time, switch between apps, and create shortcuts for frequently used apps.
To connect your Samsung Galaxy S10 to a larger screen, use a USB-C to HDMI cable or adaptor. Ensure that the larger screen is turned on and set to the right input source.
After connecting your phone to the larger screen, Samsung DeX mode will automatically activate, and your phone's display will be mirrored on the larger screen.
If your TV or monitor is compatible with HDMI-CEC, you can use your TV remote to control Samsung DeX on your phone.
If your TV or monitor doesn't support HDMI-CEC, you can use a Bluetooth or USB mouse and keyboard to control Samsung DeX on your phone.
Once you're in Samsung DeX mode, you can use your phone to access your apps, files, and other content in a desktop-style environment.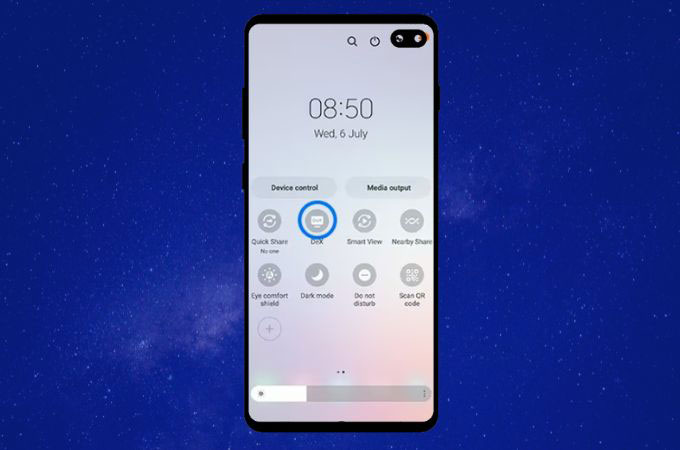 Chromecast
Chromecast is a small device developed by Google that can be plugged into a TV's HDMI port and connected to Wi-Fi to stream audio and video content from the internet or local network. Likewise, users can use their smartphones, tablets, or computers to cast or mirror content onto the TV, including from streaming services like Netflix, Hulu, and YouTube, or local files. In that way, you can easily do screen mirroring Samsung S10 to a bigger screen with Chromecast.
First thing that you need to do is to ensure that your Chromecast device and Galaxy S10 are connected to the same Wi-Fi network.
Then, on your Galaxy phone download and install Google Home App from the Play Store.
After that, open the Google Home app and click "Add" to set up the Chromecast device.
Once set up, open the app or content you want to cast on your Galaxy S10.
Tap the "Cast" icon, and select your Chromecast device from the list of available devices.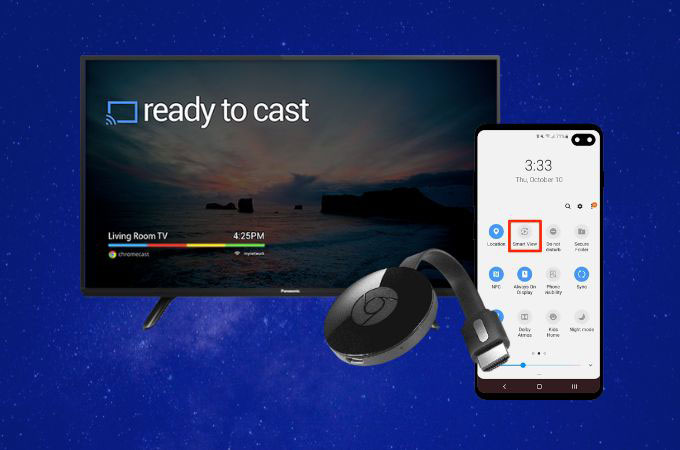 Miracast
Miracast is a wireless display standard that allows your Samsung S10 mirror screen (or other compatible devices) to a TV or monitor without the need for cables. Therefore, this can be useful for sharing photos, videos, or presentations on a bigger screen, or for playing games or watching movies on a larger display. However, Miracast does have some limitations. It requires both the source device (Galaxy S10) and the display device to support Miracast, which may not be the case for all devices.
Check first if your TV or display device supports Miracast.
On your Samsung S10 swipe down from the top of the screen to have the "Smart View" or "Screen Mirroring".
Your Samsung S10 will search for available devices and display them on the screen. Select the TV or display device you want to connect to
Then, enter the required authentication details if prompted. Then, your Samsung S10 screen should be displayed on the TV or display device.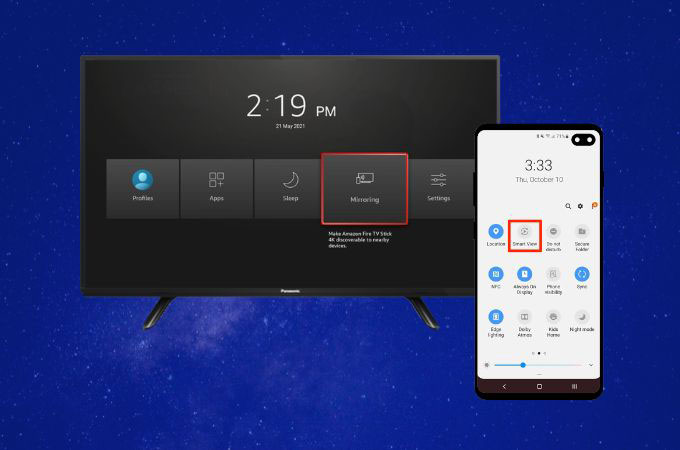 Third-party Apps
ApowerMirror
ApowerMirror is a popular third-party app that allows Galaxy S10 screen mirroring, such as a TV, computer monitor, or projector. This app offers several features and advantages which include having high-quality mirroring, which ensures that the content that you display is synced with what's on your Samsung phone screen in real time.  In addition, the app will let users customize various settings, such as the resolution and display for the best viewing experience.  
Get the app on both devices from its official page or by just clicking the download buttons above.
After the installation process, make sure they are connected to the same Wi-Fi connection. Launch the app afterward.
On your Galaxy S10, tap the "Local Cast" button to start searching for available devices.
Select the name of the other device. If prompted, grant permission to access your device's screen and audio. You may now start the mirroring process.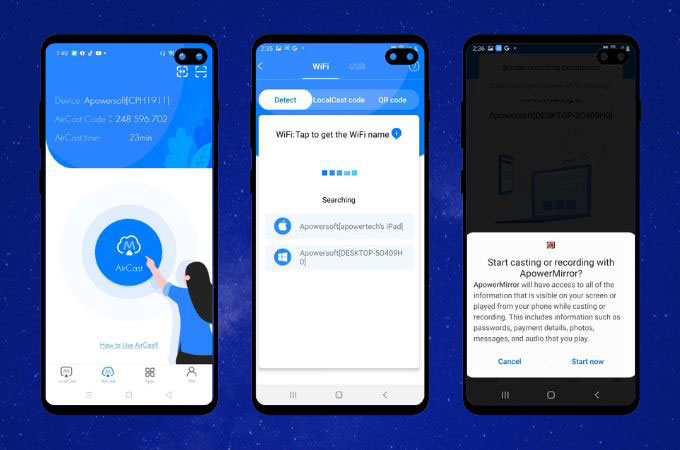 LetsView
Another third-party app that you may use in screen mirroring Samsung S10 is none other than LetsView. This free mirroring app will allow you to mirror your Samsung phone to a larger screen such as a TV and computer monitor. In fact, LetsView offers several advantages like having a simple interface that can be understood by many. More than that, it has the ability to record screens and take screenshots which will be useful for you.
Click the download buttons above for you to install the app on your devices.
Then, before launching the app, be sure to link your phone and your PC or TV on the same internet connection.
Next, on your Samsung S10 phone, tap the "Screen Mirroring" icon to start searching for available devices.
Choose the device you want to connect from the list. Grant permission to access your phone screen and audio.
Then, you may start the mirroring process.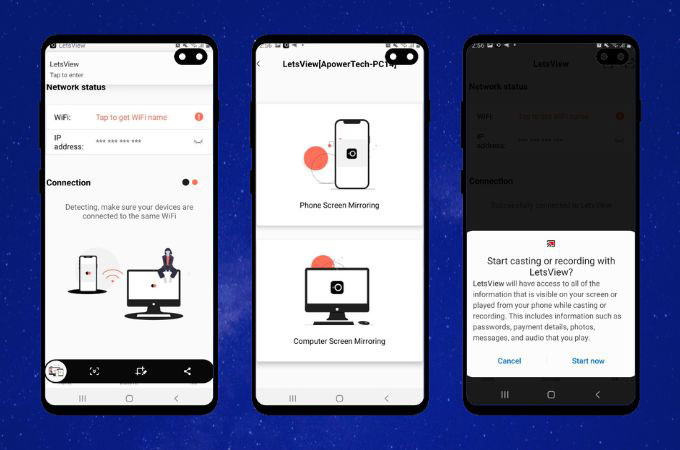 Note: If you will be connecting your Samsung Galaxy S10 to a TV, you need to adjust the input settings on the TV to display the content of your phone. However, if you experience any issues in using the wireless connection, you can also use a USB cable on both ApowerMirror and LetsView.
Conclusion
Above all, screen mirroring is an effective way to share content from your Samsung S10 mirror screen to a big array screen providing a more immersive viewing experience. This feature allows you to view your phone's screen on a TV, monitor, or projector, making it ideal for sharing presentations, photos, or videos with others. When selecting a method, it's important to consider factors such as ease of use, compatibility, and reliability to ensure the best possible outcome.