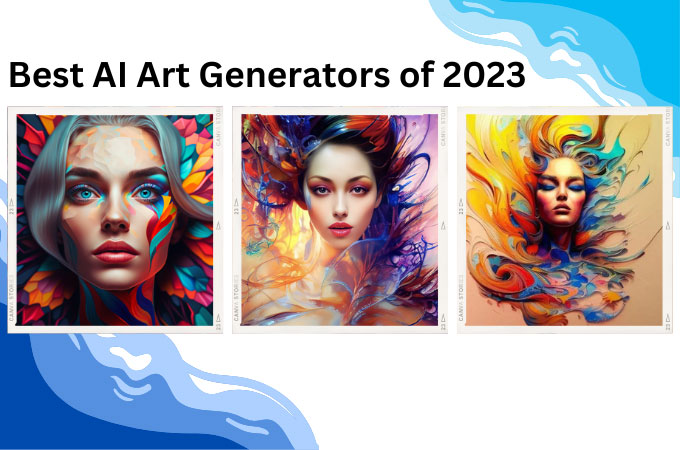 Artificial Intelligence changed the way we create art. With the advent of AI art generators, artists can now explore new dimensions of creativity and produce captivating works of art that were once impossible to create. AI art generators use sophisticated algorithms to analyze images and patterns, and then generate original artwork that is both stunning and unique. That is why in this article, we will explore the best AI art generator free apps, and how they can help you unlock your creativity and produce the best AI avatar for phones and PC.
Top 8 Best AI Art Generators
PicWish AI Art Generator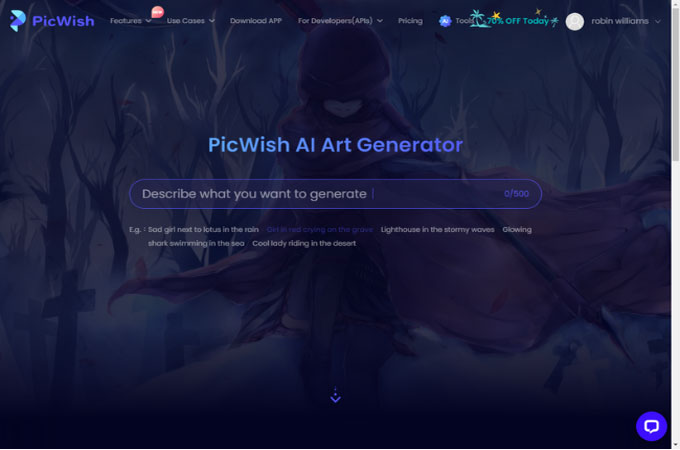 First on the list is PicWish Ai Art Generator. This tool has gained recognition as one of the best AI Art Generators in 2023. It utilizes advanced algorithms to transform ordinary images into stunning pieces of art. With its powerful AI capabilities, it can generate a wide range of artistic styles, catering to various preferences and aesthetics. One of the key factors that make it stand out is its ability to produce high-quality art that closely resembles the chosen style. The generated artwork exhibits impressive attention to detail, capturing the essence and characteristics of the desired artistic genre. Moreover, this amazing tool also offers a user-friendly interface, allowing users to easily upload their images and select from a variety of artistic styles. The platform provides a seamless experience, enabling users to experiment with different styles and refine their artistic creations.
To create AI art using PicWish, just follow the steps provided below.
Go to your browser and look for its official site picwish.com/ai-art-generator.
Describe your art idea on the box provided.

Scroll down and choose your desired size then hit the Generate button.

Your AI art is now ready.
Runway ML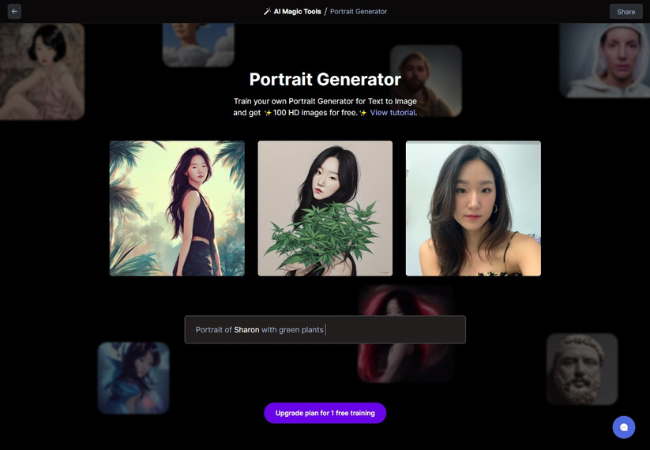 The next best free ai art generator is RunwayML. It is a platform driven by artificial intelligence, offering artists and designers the ability to produce remarkable artistic creations by harnessing the power of machine learning algorithms. By utilizing this tool, users can employ pre-existing models or train their own, resulting in the generation of distinctive and dynamic visuals, music, and even text. This user-friendly platform boasts a diverse array of tools and features, including real-time feedback, collaboration capabilities, and the option to export your creations in multiple formats. Regardless of your level of expertise as an artist, RunwayML presents an enjoyable and groundbreaking avenue for delving into the boundless creative possibilities offered by AI technology.
NightCafe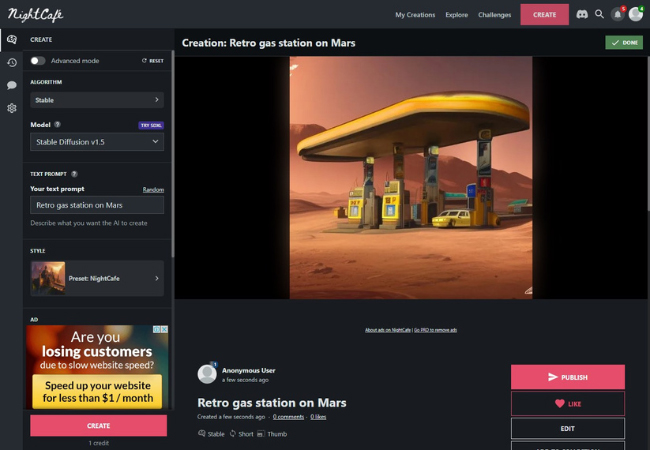 NightCafe is an AI art generator that utilizes the UNITE machine learning model to seamlessly merge two images, resulting in an exclusive and captivating artwork. The process of crafting your AI art is straightforward – you only need to upload the two images of your choice and customize the style transfer preferences. NightCafe Studio provides a diverse array of options, encompassing traditional artistic styles like Impressionism and Cubism, as well as contemporary choices such as Cyberpunk and Vaporwave. Once the desired options are selected, the AI model will generate a remarkable and original artwork that harmoniously combines the elements from both images. NightCafe Studio empowers artists to effortlessly produce stunning AI art with just a few clicks, making it an exceptional tool for those seeking to explore new styles and techniques.
ArtBreeder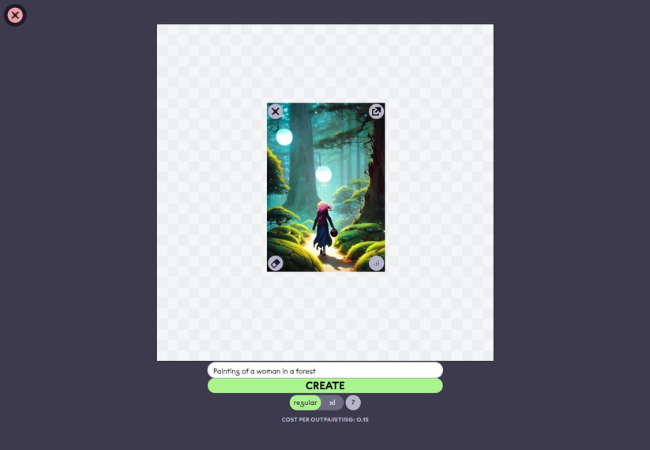 Then we have Artbreeder. It is a platform run by artificial intelligence, empowering artists and designers to craft awe-inspiring artistic creations by harnessing the capabilities of machine learning algorithms. With Artbreeder, users can produce genuinely unique and original AI art that is void of plagiarism. The platform utilizes a combination of deep learning and genetic algorithms to generate fresh artwork derived from existing images. Users have the option to either upload their own images or choose from a curated library of pre-existing ones. Subsequently, the platform employs machine learning algorithms to analyze these images and generate new and distinctive variations. By adjusting parameters such as color, shape, and texture, users can personalize the output to their liking. The resulting artwork can be easily downloaded or shared, making Artbreeder an influential tool for artists and designers in their quest to create genuinely novel and extraordinary works of art.
GetIMG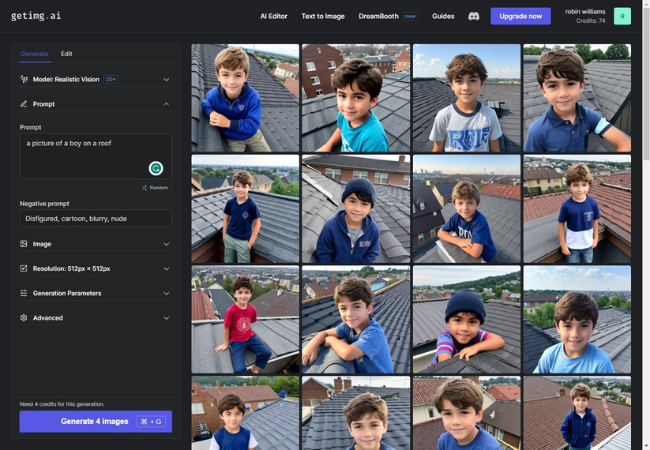 We also have GetIMG. It is an online platform that provides artists and designers with the means to craft AI-generated art through the utilization of the UNITE model, a machine-learning algorithm renowned for merging two images and producing a distinctive work of art. With GetIMG, users can effortlessly upload their own images and choose from a diverse collection of pre-trained models, resulting in the creation of visually stunning artwork. The platform further enhances the creative process by offering a multitude of customization options, enabling users to finely adjust the style, color, and composition of their artistic creations. Whether you possess considerable experience as an artist or are just embarking on your creative journey, this tool offers an enjoyable and forward-thinking avenue to explore the immense creative possibilities of AI technology while crafting magnificent, one-of-a-kind art pieces.
Stablecog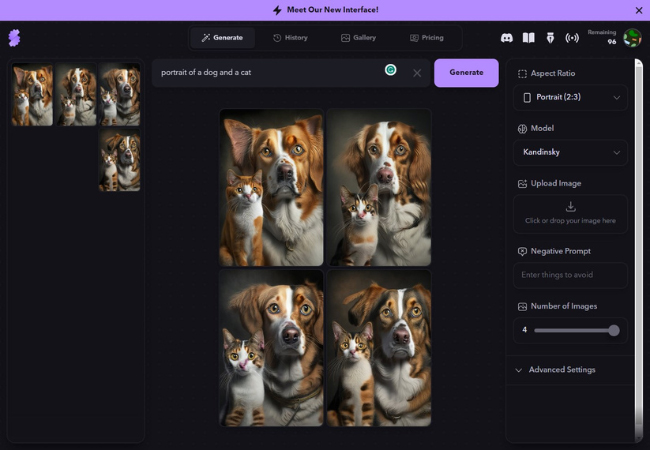 Another ai art generator from text free is Stablecog. It is an AI art generator platform that helps users easily produce incredible and inspirational art. This free and open-source platform harnesses the power of Stable algorithms to generate artworks that are unique and original. With this stool, users have the ability to personalize their creations by adjusting a variety of options, such as color, pattern, and texture. The platform is designed to be user-friendly, that requires no coding skills or expertise to use.
DeepAi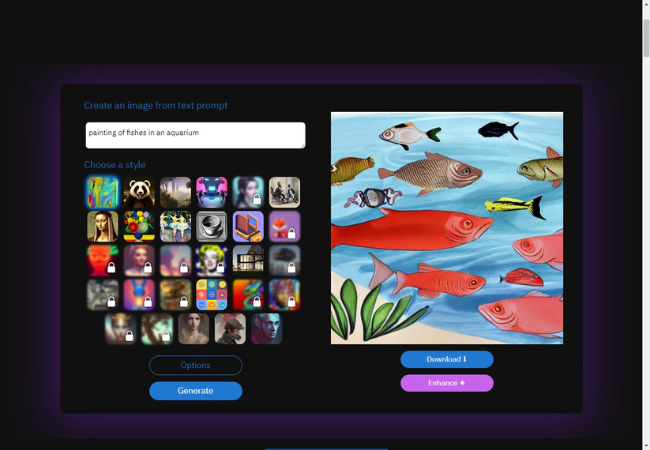 The text2img machine learning model developed by DeepAI is a robust tool that empowers artists and designers to generate AI-generated artwork using text-based descriptions. This innovative model allows users to effortlessly translate their written ideas and concepts into visually striking representations.
StarryAI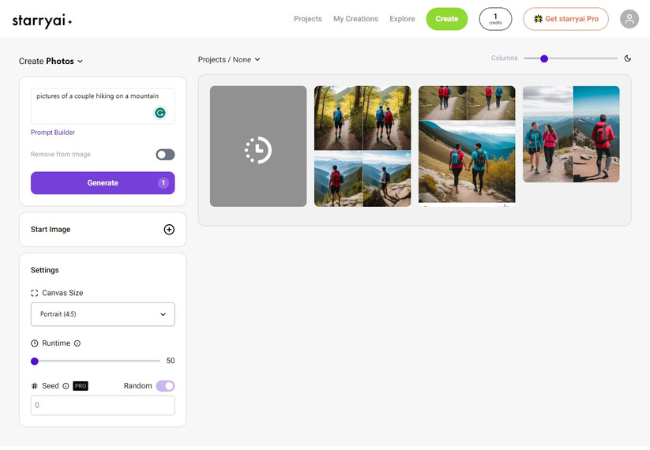 The last tool is StarryAI. It provides an exceptional platform for creating AI-generated art, offering a seamless and captivating experience. With its user-friendly interface and state-of-the-art machine learning algorithms, artists and enthusiasts can effortlessly explore the realm of AI art creation. The platform also grants users a multitude of customization choices, enabling them to personalize their AI-generated art to align with their artistic vision. By adjusting parameters like brush strokes, color palettes, and intensity, individuals can imbue their creations with a unique touch and achieve their desired artistic effects.
Conclusion
AI art generation has unlocked thrilling opportunities for artists, designers, and creative enthusiasts worldwide. The seven highlighted AI art generators present a wide array of functionalities and features, equipping users with the necessary tools to delve into their artistic abilities and produce captivating artwork. These platforms epitomize the harmonious blend of AI technology and creative expression. Regardless of the specific AI art generator one opts for, each exemplifies the boundless potential at the intersection of AI and artistic creativity.