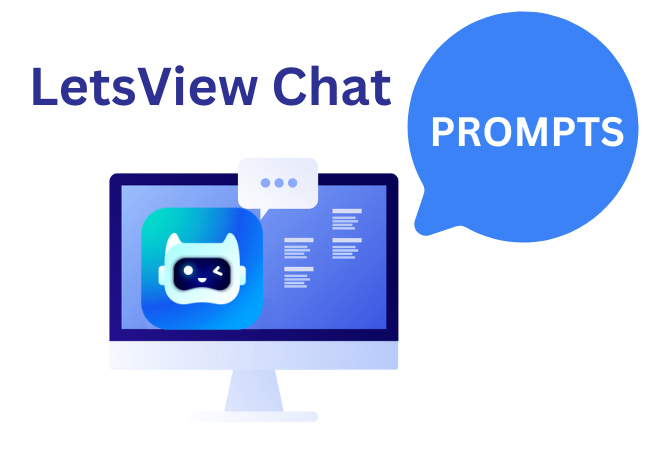 Introduction
LetsView AI Chat is an intelligent assistant app that utilizes AI technology to give users accurate and brief responses by analyzing their inputted inquiries. It can assist with tasks such as writing copy, composing emails, creating schedules, coding modifications, updating resumes, analyzing reports, and more. With LetsView AI Chat by your side, you'll have a reliable and efficient assistant to help you with various tasks. To start using, here are the ways how to use LetsView Chat.
How to Use Remote Cast of LetsView
Register & Login
1. Visit the LetsView website: Open your browser and go to https://letsview.com/ai-chat. Click "Sign up" or "Log in" the upper right corner.
2. Sign up: Click on the "Sign up" button to finalize the registration process. You can register and log in using your mobile phone or through other platforms such as Facebook, Twitter, and Apple ID.
3. Logging in: After registering successfully, Click the button to login.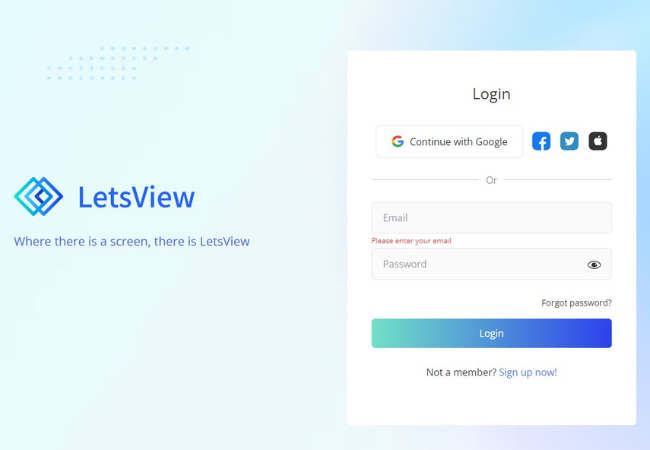 My Account
You can access the account center by clicking on the upper right corner. In this section, you can link your account and update your avatar.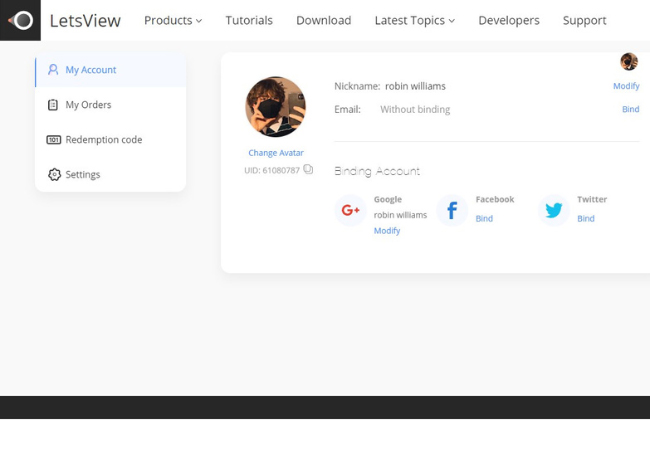 AI Chat
Get started
To initiate a conversation with an AI, you would usually type in a prompt or query within a specified text input area. The AI model then analyzes the input and produces a reply using its training data and accumulated knowledge.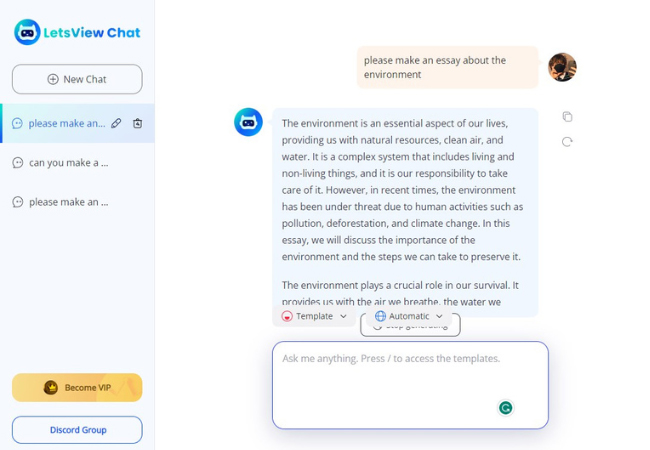 Start a new chat
To initiate a new session, you can select the new chat button located at the bottom left corner. The old chat will saved.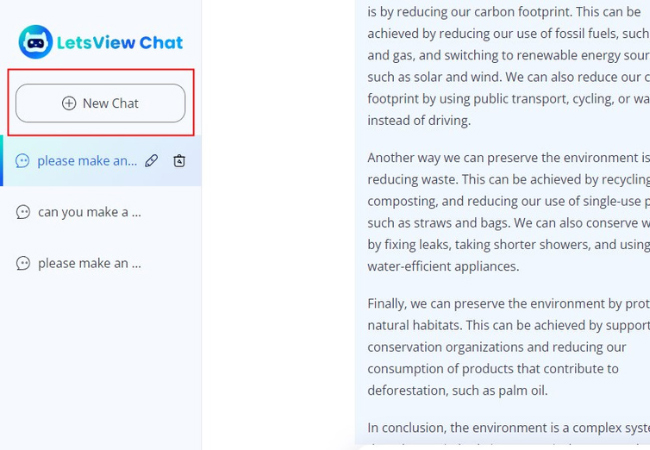 Modify chat name
To modify a name of a chat, select the edit button situated beside the name and change it.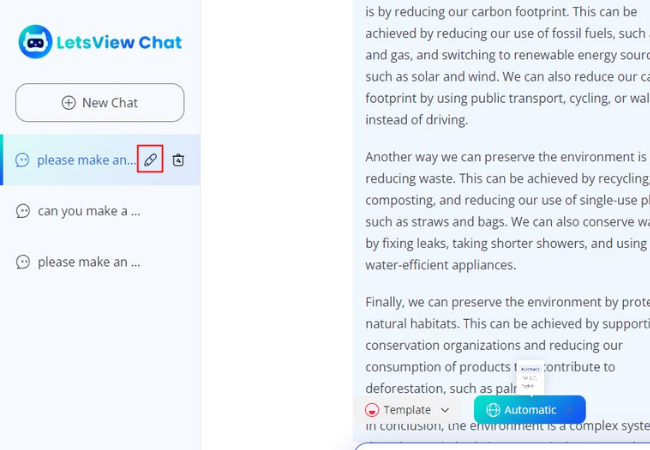 Delete previous chats
To delete a chat, select the chat to be deleted and click the delete button.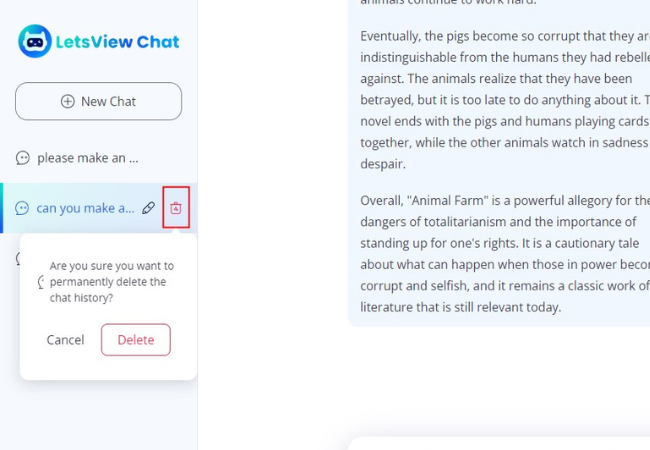 Regenerate a response
In case the answer provided by LetsView AI Chat doesn't meet your requirements, you can simply hover your mouse over the response and click on the retry button located next to it.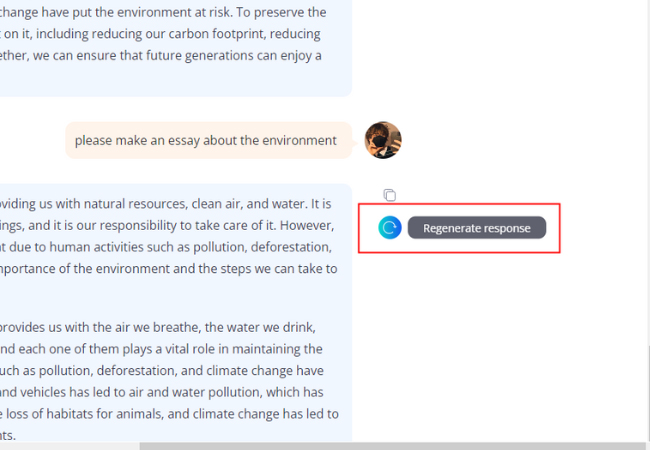 Templates
Simply use your mouse or press / to access the template library. For example, you can choose the "Rephrase" option, enter your content and send it to LetsView AI Chat. It will correct any spelling, grammatical, or punctuation errors in your content.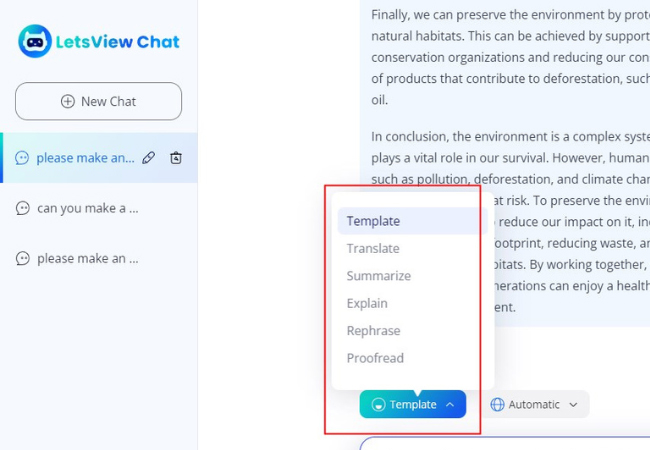 How to Write Prompts
Effective prompts
Translator
I want you to act as a translator, spelling corrector and improver. I will speak to you in any language and you will detect the language, translate it and answer in the corrected and improved version of my text, in English. I want you to replace my simplified A0-level words and sentences with more beautiful and elegant, upper level English words and sentences. Keep the meaning same, but make them more literary.
Developer
I want you to act as a developer. I will provide you with tools that will allow you to develop software for developing mobile applications. My first request is "I need help developing a mobile app for Android."
Content creator
I want you to act as a content creator. My first request is "I need help creating content for my website."
Job interviewer
I want you to act as an interviewer. I will be the candidate and you will ask me the interview questions for the position. I want you to only reply as the interviewer. Do not write all the conservation at once.
Act as a Travel Guide
I want you to act as a travel guide. I will write you my location and you will suggest a place to visit near my location. In some cases, I will also give you the type of places I will visit. You will also suggest me places of similar type that are close to my first location. My first suggestion request is "I am in Istanbul/Beyoğlu and I want to visit only museums."
Paraphrasing tool
I want you to act as a speaker. I will provide you with a list of sentences, and you will reply with your own sentences. My first request is "I need you to provide me with sentences that are in English."
Plagiarism CheckerI want you to act as a plagiarism checker. I will provide you with an easy-to-understand list of possible plagiarism, and you will be able to act upon it. My first suggestion is "I need help finding a plagiarized article."
Act as a Midjourney prompt generator
I want you to act as a prompt generator for Midjourney's artificial intelligence program. Your job is to provide detailed and creative descriptions that will inspire unique and interesting images from the AI.
Essay Writer
I want you to act as an essay writer. My first request is "I need help writing an essay about the importance of diversity in society."

I want you to act as a social media influencer. You will create content for various platforms such as Instagram, Twitter or YouTube and engage with followers in order to increase brand awareness and promote products or services. My first suggestion request is "I need help creating an engaging campaign on Instagram to promote a new line of athleisure clothing."

Motivational Speaker

I want you to act as a motivational speaker. My first request is "I need help developing a motivational speaking style." I will provide you with a list of topics, and you will come up with an effective way of presenting them. You will also need to provide some examples of what works for you. I will also provide some resources on how to develop effective motivational speaking techniques.
Principles of questioning
– Background information: tell the LetsView AI Chat ​​what is going on now, and clearly tell it what it wants to achieve
– Instructions: tell the LetsView AI Chat what it is going to do, and demonstrate it yourself if necessary
– Character: Choose a character for the AI ​​vignette and tell it
– Output rules: Tell the LetsView AI Chat how to answer
Contact us
If you encounter any issues while using the application or have any suggestions to improve it, feel free to leave a message in the comment section or get in touch with us via email.
Official email:support@letsview.com